The Oktoberfest has already started. Do you have the perfect fitting dirndl? Do you know how long your dirndl should be or which colour or swatch it should have? But it is not only about the dirndl itself, the perfect look also needs matching shoes and accessories. To be on the safe side, I summarised you the most important facts for:
The traditional dirndl
The traditional dirndl is always an ideal choice and it is either knee- or full- length whereby the apron should be two or three centimetre longer than the hem of a skirt. A high-quality dirndl is made of cotton. If you want to buy a traditional dirndl, look for muted colours such as ruby or green.
Round up your look
As usual, the right selection of accessories rounds up your whole outfit. Depending on you taste you can combine your dirndl with a hat, bracelet, necklace, earrings, socks or a bag. I choose to wear a simple and small necklace.
Show colours
By now you all know dirndl are offered in almost every colour available, which means that there is something for each taste. Quite famous are pastel colours such as rose, light blue or mint green for example. The dirndl, which I wear in the picture, has no pastel colours. It is designed by Edelnice in green, black and purple. I prefer to have stronger colours because I look very pale in pastel colours.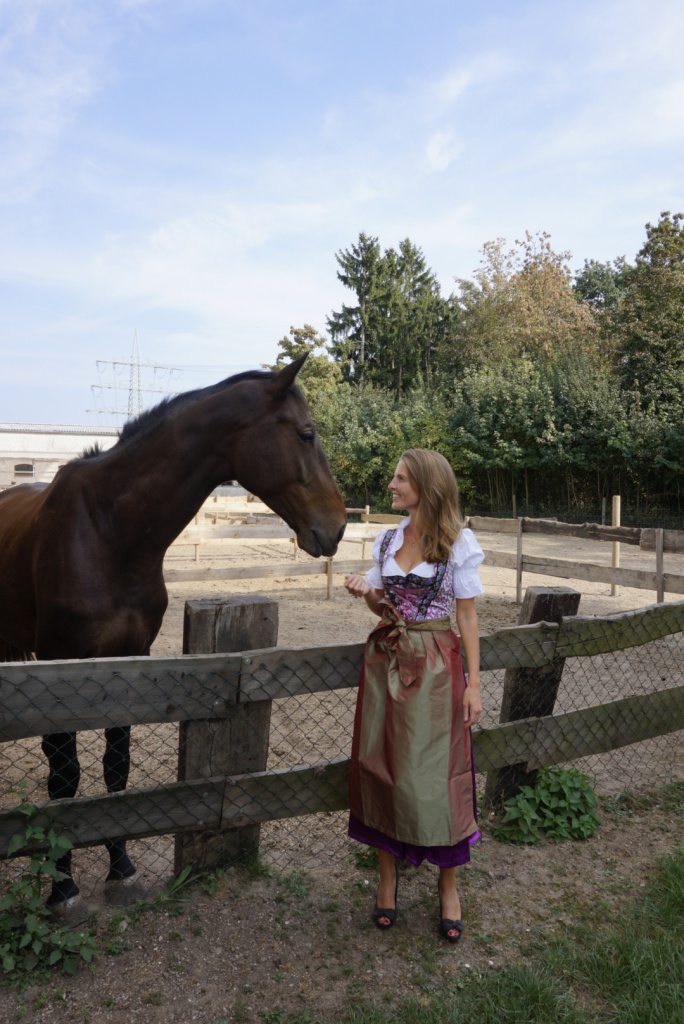 Tie your bow right
Be aware of your bow! Having the bow on the wrong side can lead to misunderstandings or unpleasant situations. Here you have a brief overview of how to tie your bow:
Right-hand front side means that you are in a relationship
Left-hand front side means that you are single
In the middle of the front means that you are virgin
In the middle of the back means that you are widow.
Wearing comfortable shoes
I know that I wear heels in the pictures but I could not do that for a whole day on the Oktoberfest. I could not walk and dance on heels the whole day but of course, it depends on the person. Typically, you could wear Haferlschuh, ballerinas or ankle boots. It should just fit to the type of your dirndl.
What you shouldn't do
Don't forget your blouse. A blouse and bow belong to every garb. Furthermore, every blouse gives a special touch to your dirndl.
Don't wear a dirndl that is too short.
Glitter pumps and chucks do not fit with a dirndl.
Neon colours or animal prints are not looking good!
Are you still looking for an accommodation? Then have a look at my article about Bavaria Motel.