Anyone who has been to New York knows that the city stands unparalleled in its magnificence. It was my fifth visit this time in New York, and as soon as I had left the airport for the city, I right away felt the NYC vibes. You know what I mean, right? A Starbucks' mug in hand, gym clothes draped on and you almost feel like a local. 😉
There is hardly a corner that will not surprise you there, and you should definitely stick with his smartphone or his camera for Instagram or even private purposes.
For you I have summarized the best spots, which are as follows:
Parks
Although New York gives the impression that the city only consists of skyscrapers, you will often find a quiet park that invites you to linger.
Central Park
Central Park is probably the most famous and largest park in the center of Manhattan. Here you'll find countless opportunities for a great picture. I am always happy to see the squirrels and treat myself to a giant pretzel at the entrance to the park. My pictures were taken right at the entrance to Central Park near the Apple Store.
Bryant Park
Bryant Park is located directly between 5th and 6th Avenue. It first caught my eye this time around as it was so close to our hotel, Hyatt Times Square New York. The bustle on the most famous avenue can surely cause you to move around a bit haphazardly. Many come here for a picnic or just to enjoy the tranquility. You cannot miss seeing this place in my picture.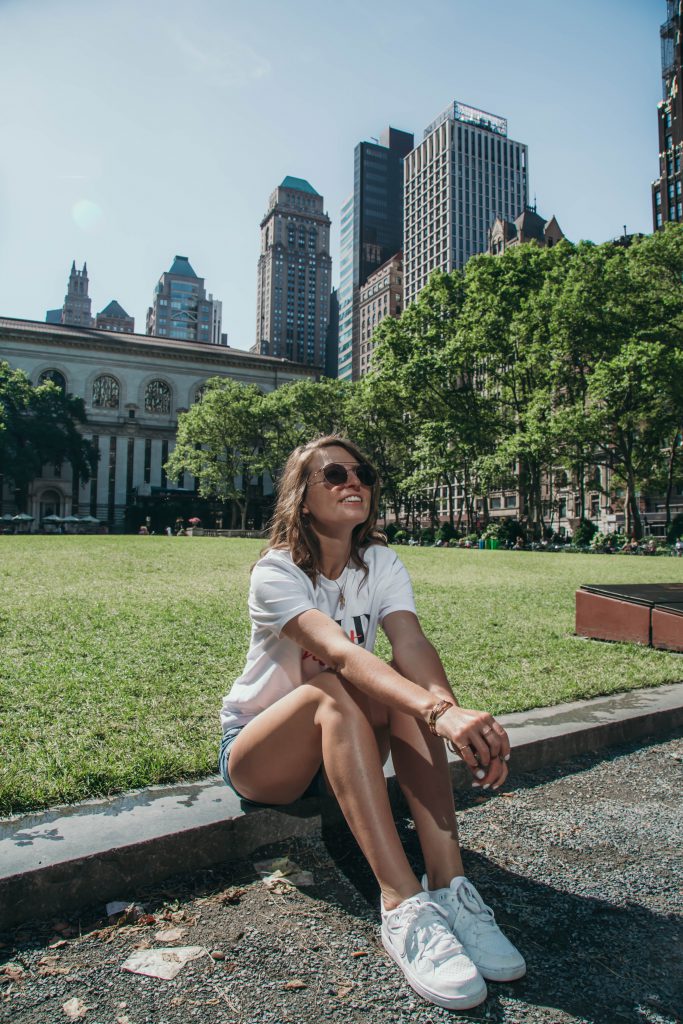 High Lane Park
High Lane Park is just 2.33km long and was known as Güterzuggasse. The High Line always leads me to one of my favorite places in New York, the Chelsea Market. Just before the Chelsea Market, my picture was taken on the High Line. But you can always find interesting city spots if you get a view of the long streets.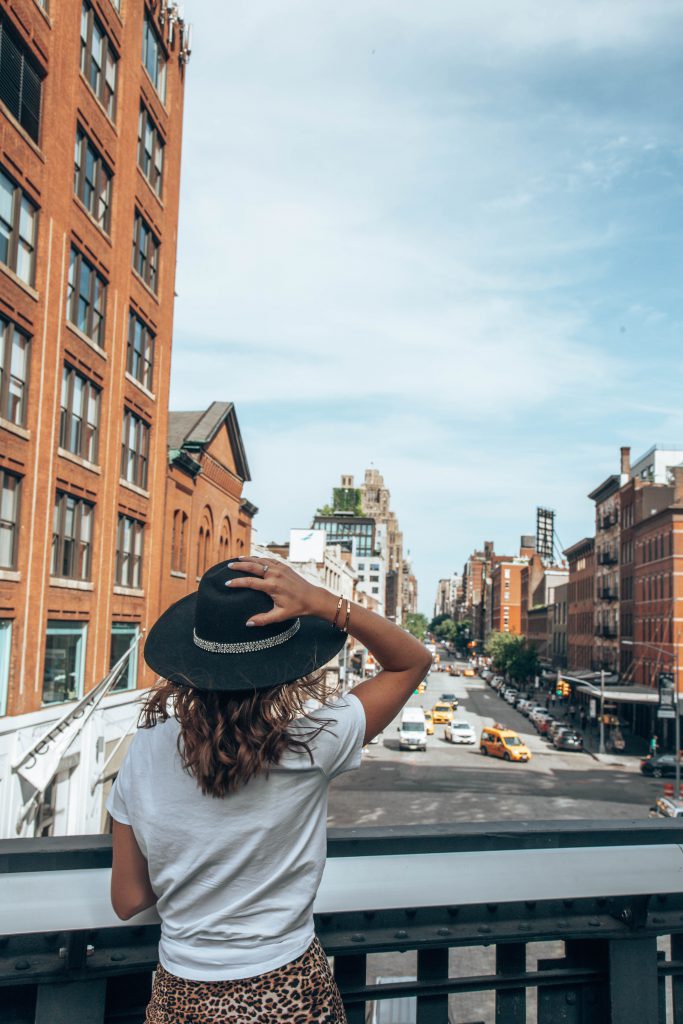 Bars
There are probably thousands you can find here. I'm a huge fan of bars with a gigantic view and guess what? I also found these for you.
Bar SixtyFive
A must visit if you are in New York is Bar SixtyFive. Once you know you're flying to New York, do not forget to reserve a seat there in advance. It is almost always fully booked. No wonder, as it is just one floor below Rockefeller Center observation deck. Instead of paying admission, treat yourself to a delicious wine or cocktail and are, for sure, to get amazed.
https://www.instagram.com/p/By0nIOvIodp/
Bar 54
I visited Bar54 for the first time since it was our hotel bar from Hyatt Times Square New York. It was never crowded, and the view was simply unique. Located in Times Square, you can enjoy the view of the Empire State Building on the lounge furniture with a cocktail in your hand. Through the glass wall, you also have a good view of what is happening right below you. South, of course, you can also see the One World Trade Center and even gaze towards New Jersey.
https://www.instagram.com/p/ByuD8UuIGN3/
Restaurants / Cafés:
Again, there are countless options here too, but these three have been very well-suited for my Instagram feed 😉
Eataly NYC Flatiron
If you love pink, Aperol, flowers and Italian food, you should not miss the Eataly at the Flatiron. Nobody had their cell phones in pockets, and so I did not feel ashamed doing my favorite pastime (taking pictures, of course), because everything is photographed here and that too with delicious drinks and Italian delicacies.
The Usual
The Usual has recently started offering only breakfast in Soho and is therefore still an unknown spot. While you get your breakfast, you sit in the middle of the painted streets of Soho and experience the New York feeling of being alive. (The Usual does not have a cappuccino or latte macchiato!)
Pietro Nolita
Everything is pink here! Really everything, inside or outside.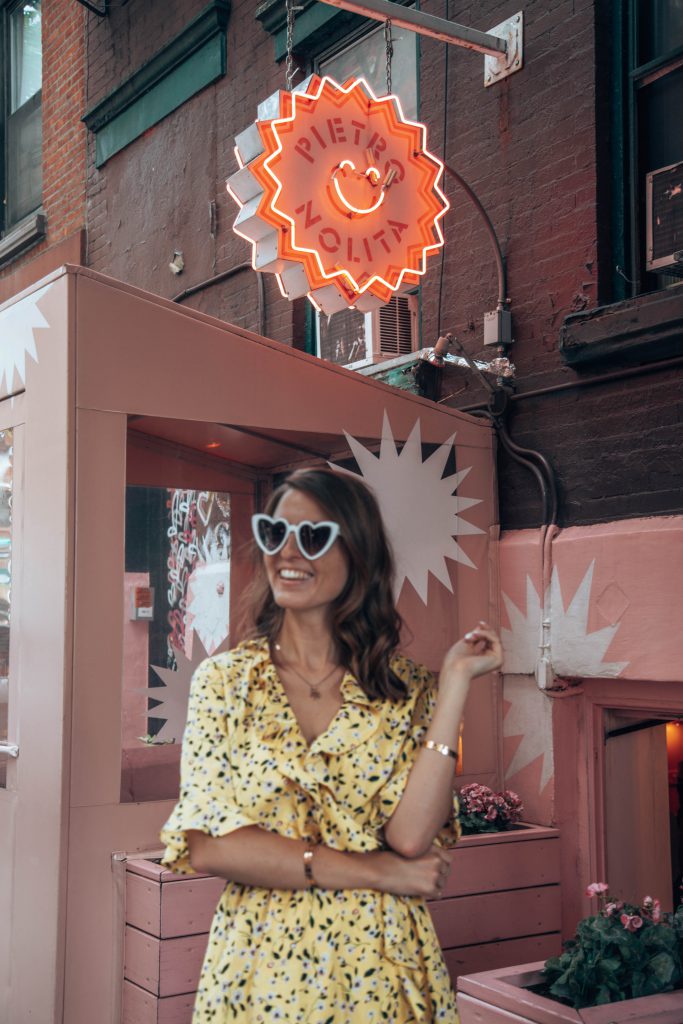 Streets:
Greenwich Village
Greenwich Village, the neighborhood in the west of Manhattan would surely be my home if I were to pick someplace in New York. It reminds me of a village rather than the city with the skyscrapers. Every corner between the brownstones is worth a photo.
DUMBO
Dumbo the Brooklyn neighborhood not only offers a great view of Manhattan but also invites you to take a walk across the Brooklyn Bridge.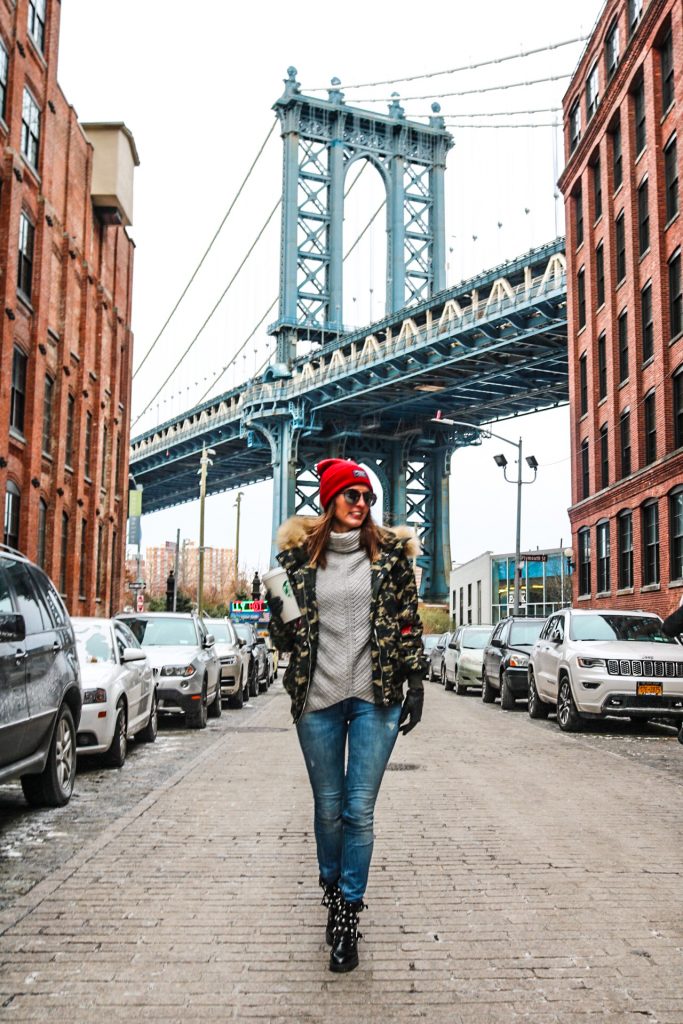 SOHO
The Soho district has for me the best shopping streets and cafes in a small space. By the way, almost every street offers a street-style picture. A little insider tip for a quick snack is the beautiful supermarket "Dean & DeLuca."
https://www.instagram.com/p/BzLju7EIed5/
Flatiron
Flatiron, also known as one of New York's landmarks, definitely should belong in your feed. I recommend you go in the morning as it is still very empty in the corner. Directly in front of the Flatiron Building, you will also find the famous and photogenic Madison Square Park. We sat secretly in the park in the dog section and played with the dogs because we have missed ours so much. That's how we quickly got to know the locals!
Hotel
Hyatt Centric Times Square
Even our Hyatt Centric Times Square hotel, which, as the name implies, is right on Times Square, has countless nooks and crannies. Already the Times Square is worth a thousand pictures. Since we lived right in Times Square, we were already out around 7 o' clock and took great pictures where nothing was going on. Even at night, it is very empty. You could even go out in your pyjamas quickly for a look at the most famous intersection.
Generally, you can visit all the sights from here on foot. We were in Soho within 40 minutes, passing the Flatiron, Washington Square Park and many other attractions. 5th Avenue, Rockefeller Center and Central Park are all within walking distance.
The Hyatt is not only great because of its location, but also for its view from the rooms. One morning I got up especially at 4 am, 5 am and then 6 pm to watch the wonderful sunrise. Even out of the shower, you can see everything through the window. In the evening, I recommend you to make a detour to the hotel bar 54. Again, nothing is missing. We had breakfast at Starbucks right across the street, and our last night we could not have ended better than in the hotel restaurant.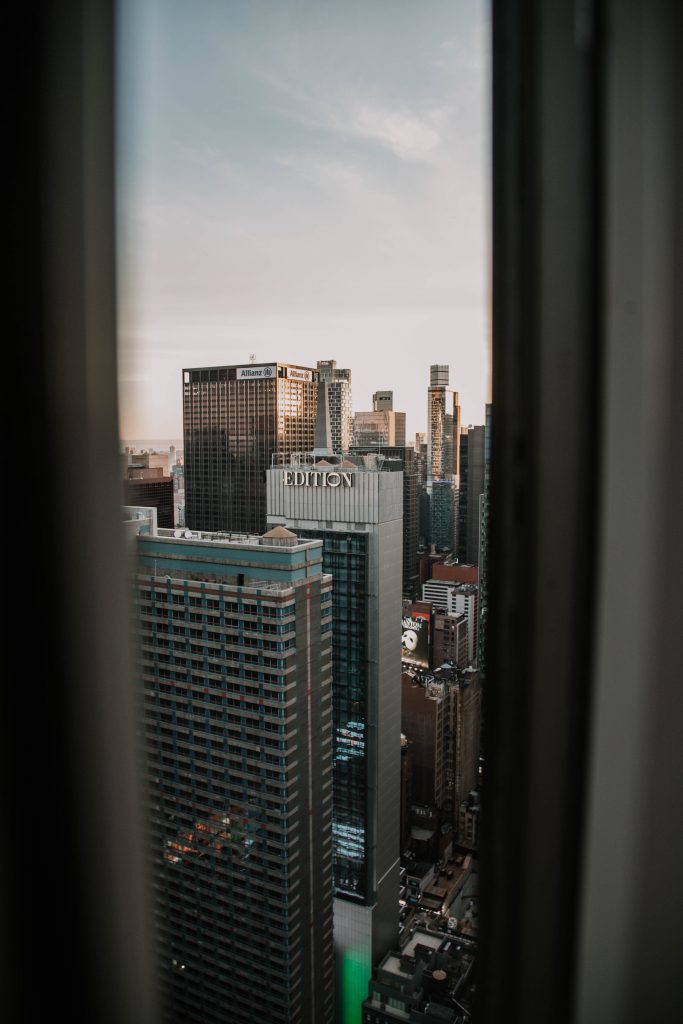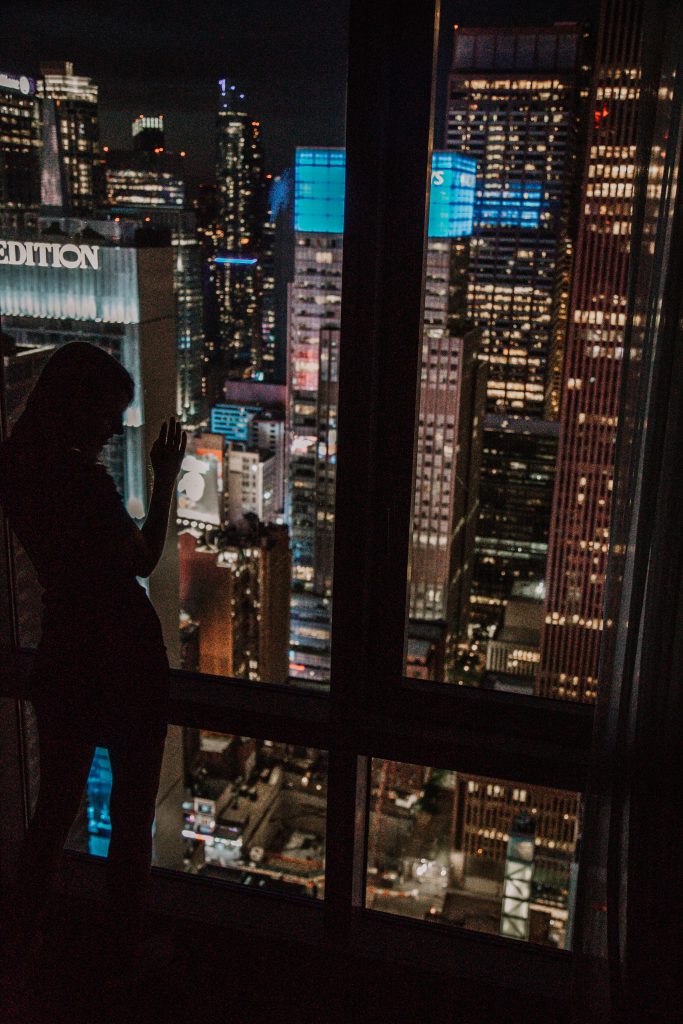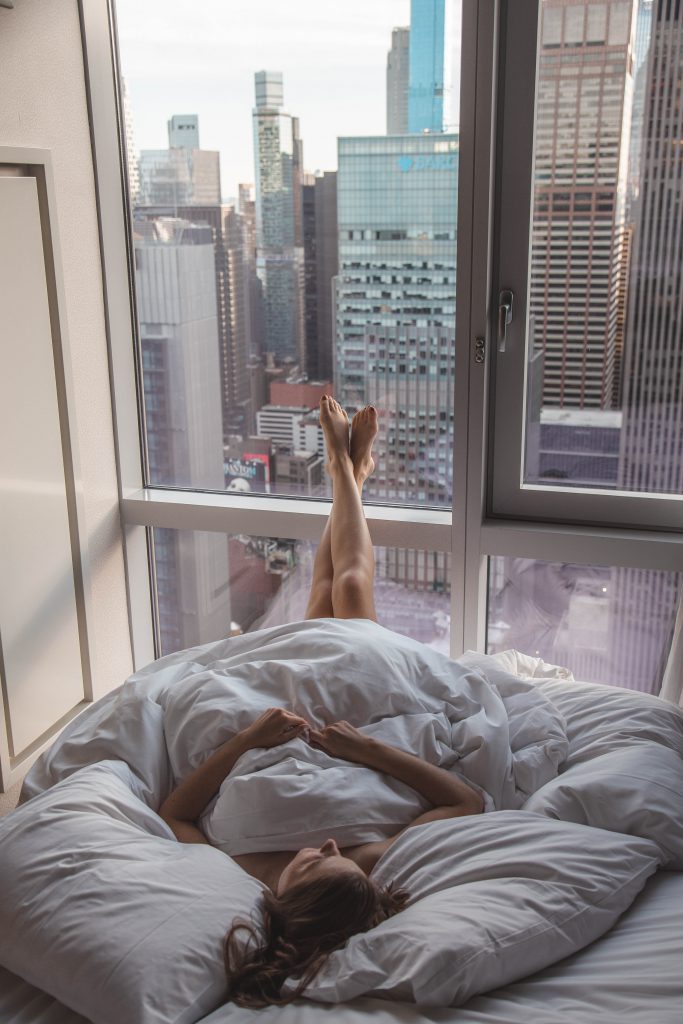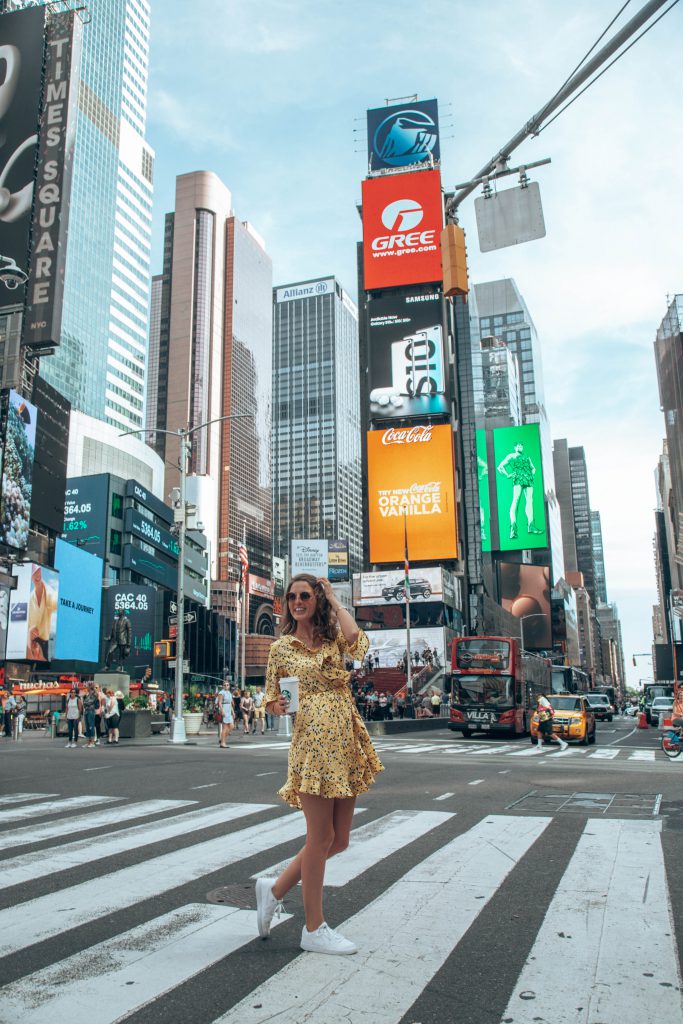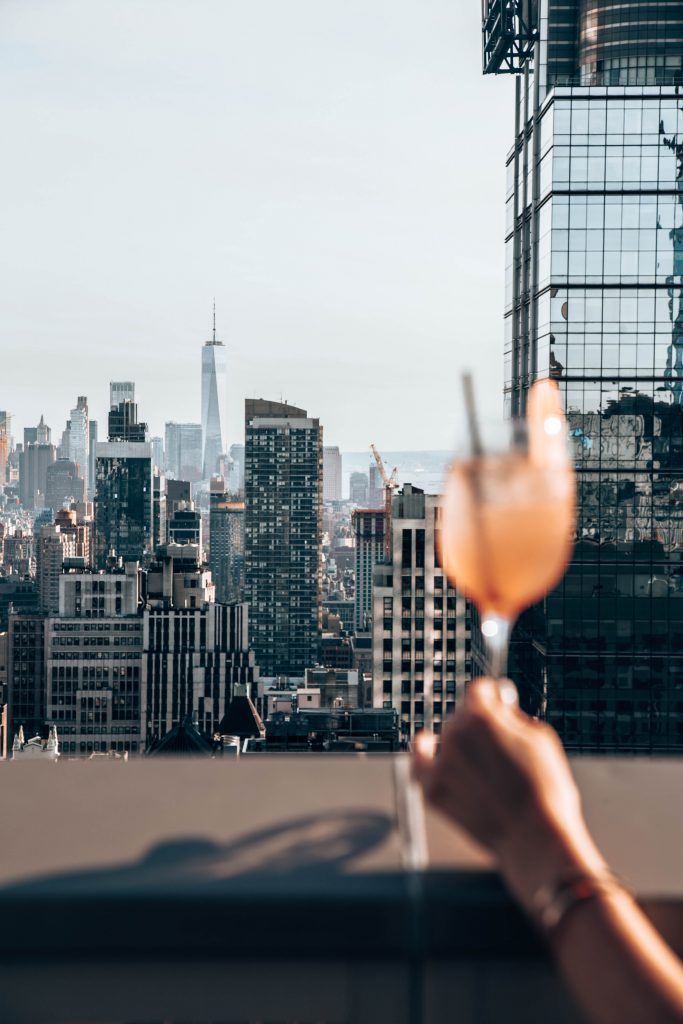 If you also know great photo locations in New York, let me know in the comments for my next visit 🙂
Google Maps Locations