EN
I have traveled, so far, in almost every country in southern Europe but, Portugal has been on my list for ages. This dream of mine came true in mid-September. After exploring the fabulous capital and the Pena Palace in Sintra, we took a rental car directly to the Algarve coast. Within 5 days we have not only discovered the colorful streets, heavenly beaches, and a luxury boutique hotel, but also a fabulous restaurant in the middle of a bay.
Make sure not to miss out the most beautiful places in Lagos for that visit some places of my "Must Do list" 🙂 especially, in autumn but, you can still enjoy the summer here.
1.The Narrow Streets of Lagos
Of course, on our first evening, I got lost in the small town while traveling by car. I would recommend that to anyone because the beautiful narrow streets are not suitable for cars. But they are perfect for strolling. In the historic center of Lagos, there are numerous colorful houses and many of them are covered with ornate tiles. If you are in town, make sure to stop by Coffee & Waves. Everything is just right here: coffee, breakfast and the décor. The chilled and cool "surfer atmosphere" spreads quickly over to every visitor, so that you leave the small café saturated with peace and relaxation.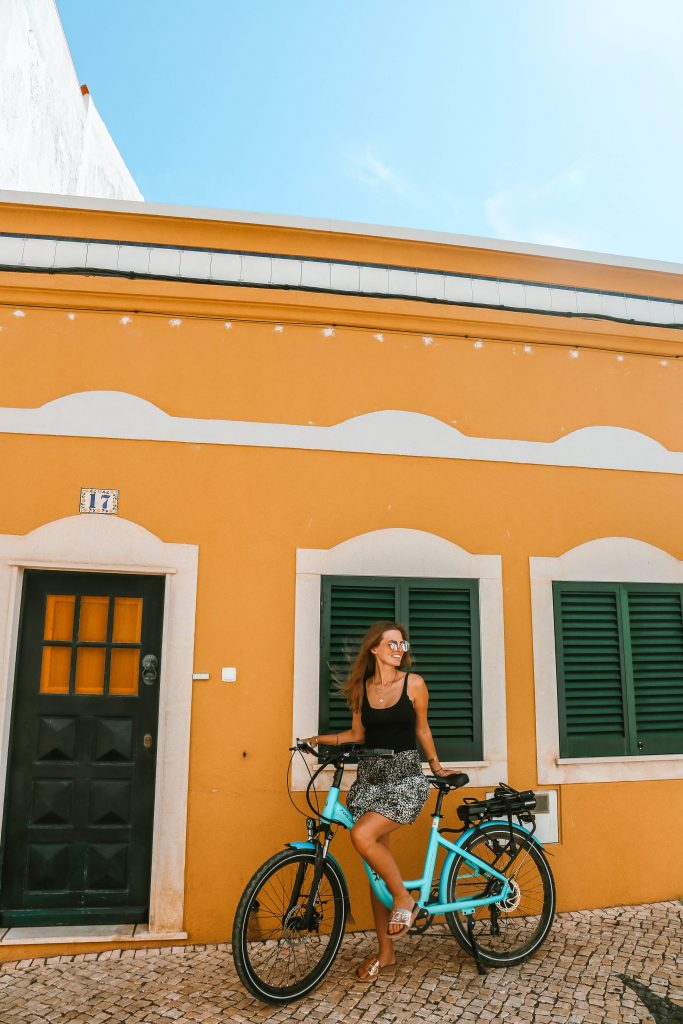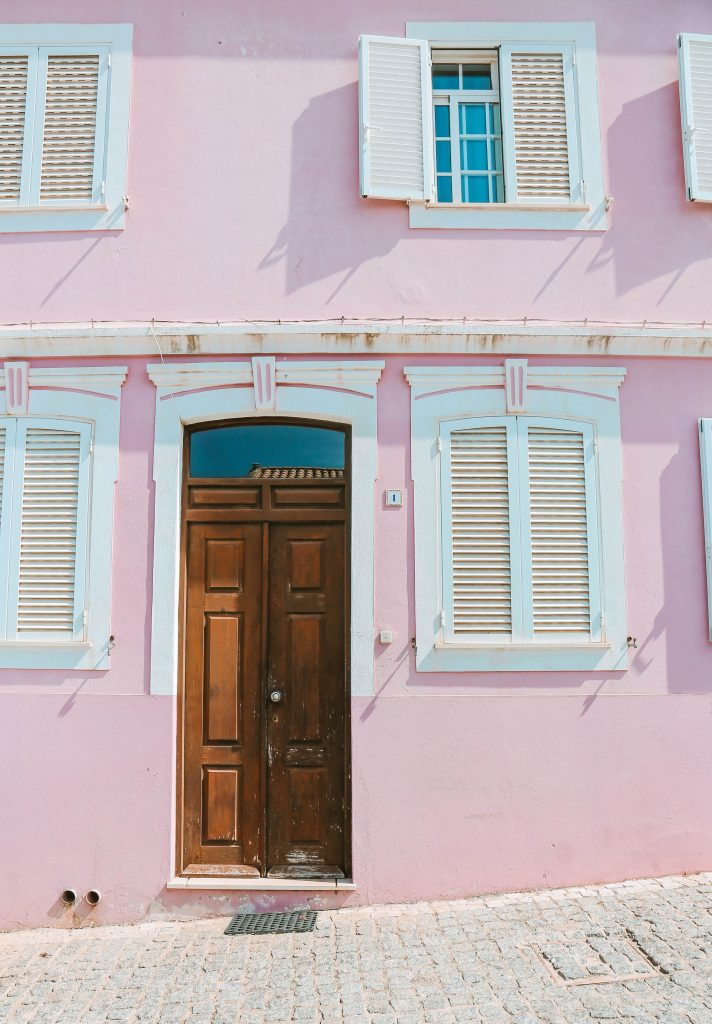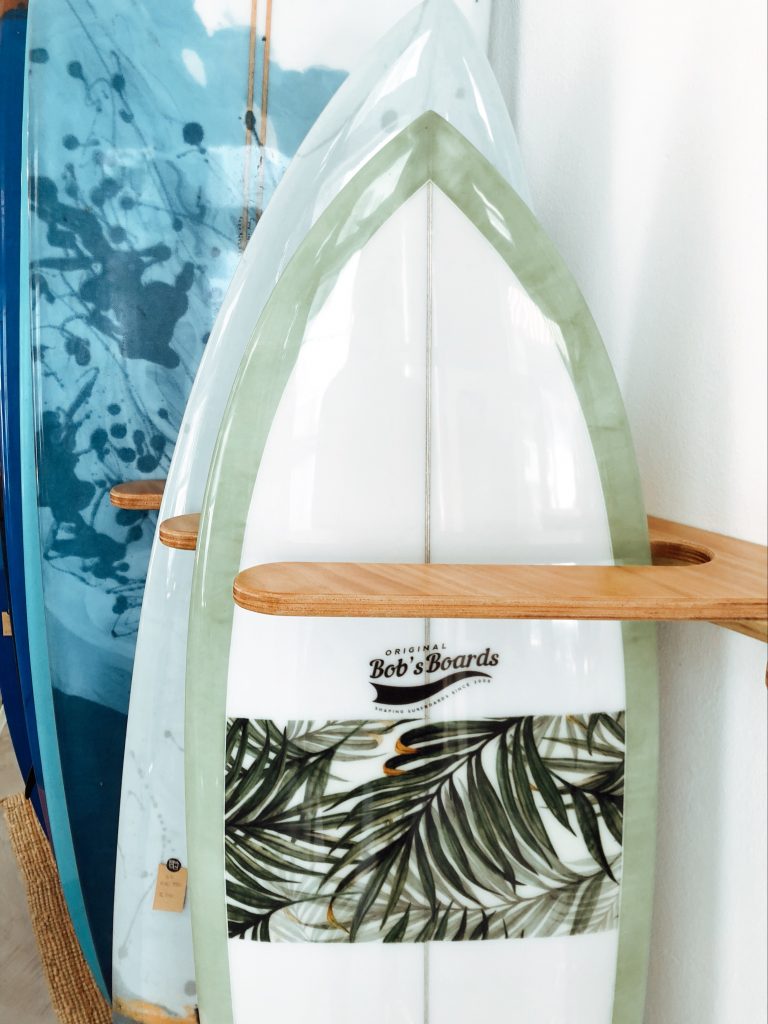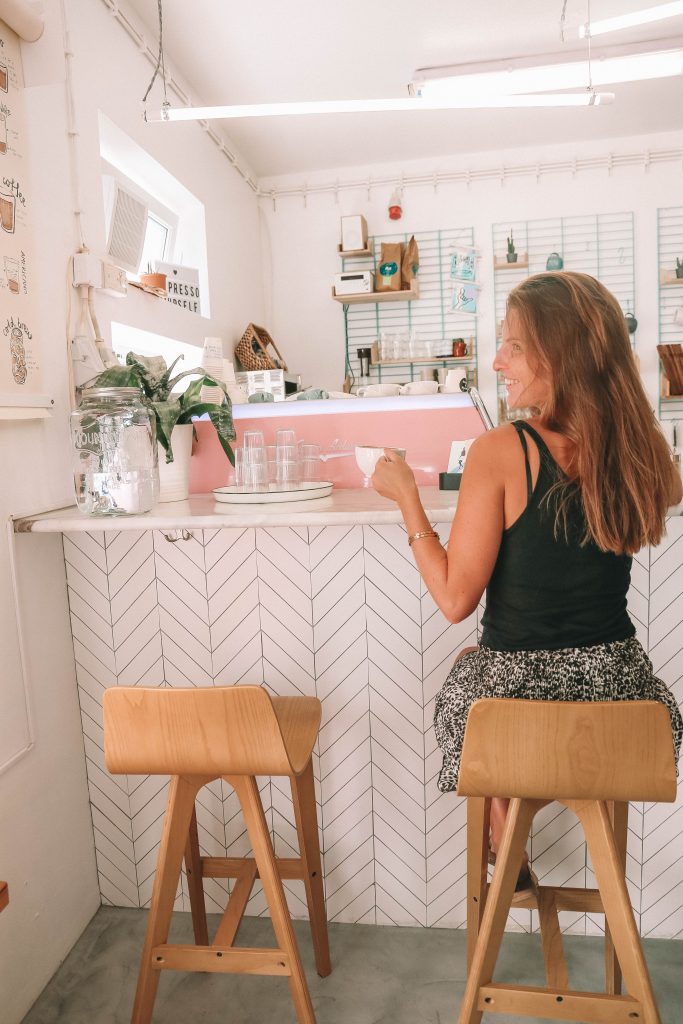 2. Meia Praia
In the immediate vicinity of the old town is also a kilometer-long picture-perfect beach, where one gets to walk under the sun, in the sandy beaches. You can head there for free. After about walking for 45 minutes you will reach the Onyria Palmares Beach House Hotel.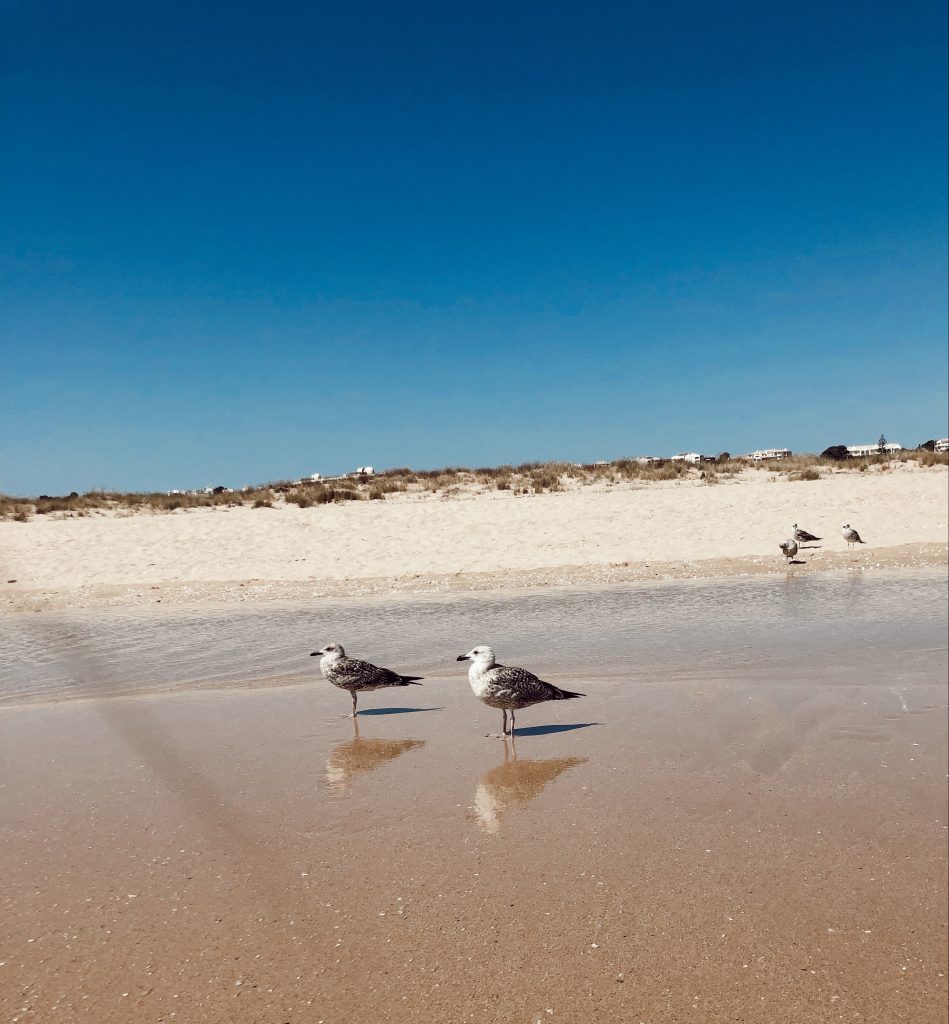 3. The Oasis in Lagos
Just last year Onyria Palmares Beach House Hotel opened with 20 spacious rooms. Sea view can be enjoyed both from the terrace and from the bed. The quality breakfast invites you to linger on the main terrace in the morning. Their selection could be a bit more varied, though. But during the day you have a lot of activities to do. The golf course right outside the door, of course, offers you to play golf. My highlight was the quiet pool with a great view and not to forget the e-bikes. We could not have explored Lagos better than without the e-bikes. A whole day we drove through the city and along the sea.
Unfortunately, I cannot recommend their room service. But, we have found two great alternatives for that, which are only 25 minutes away.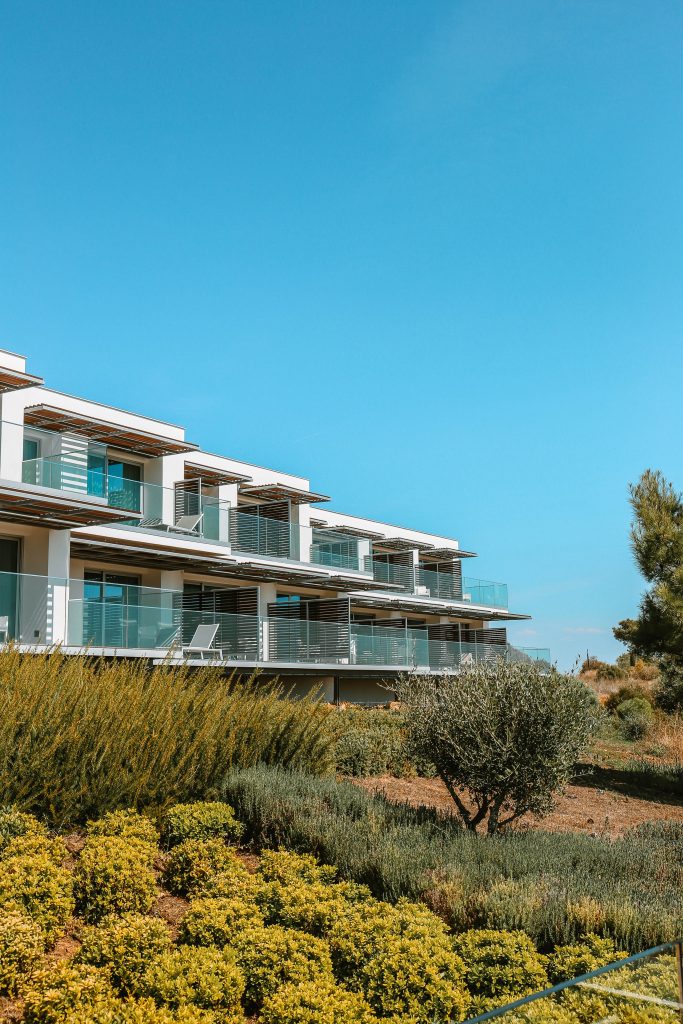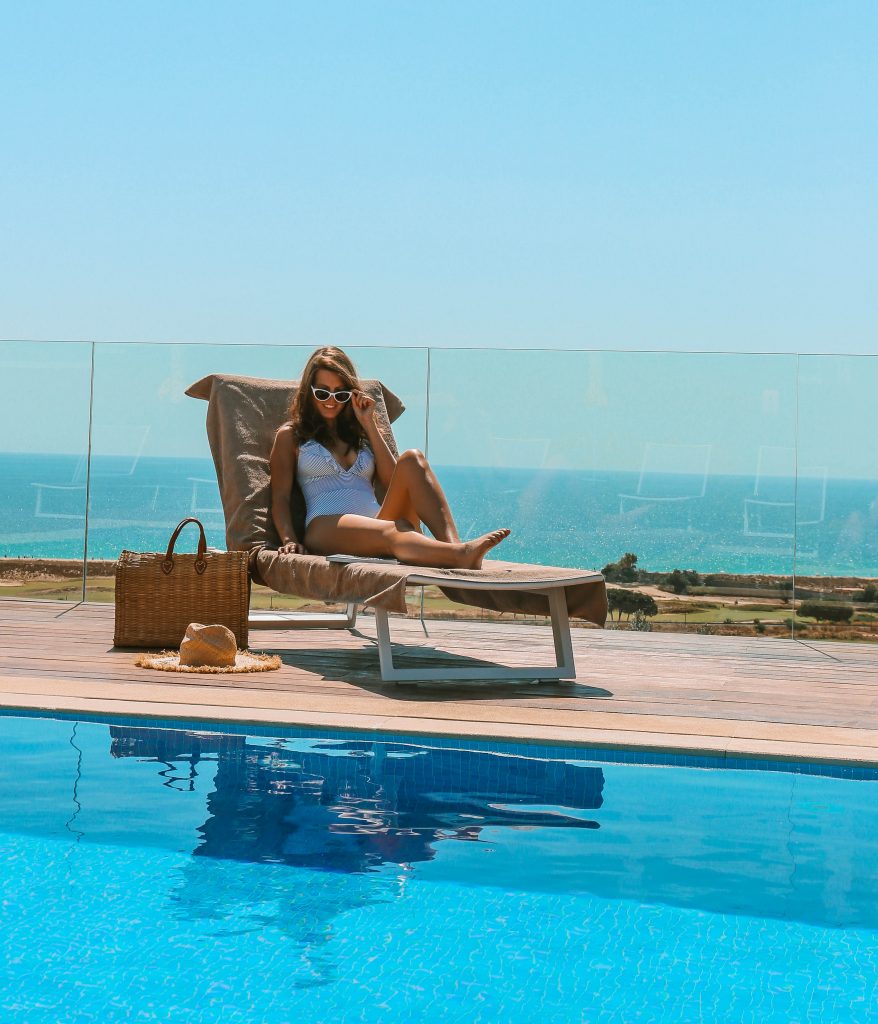 4. Food Heaven
In the restaurant Canico fresh fish is served in a rock wall, right by the sea. Here I discovered my new favorite wine "Vallado". The service here is very friendly which you will experience as soon as you sit. Even, before the fish is finished, it will be presented to you again by a waiter. Without a reservation, it is difficult to get a table immediately in this restaurant.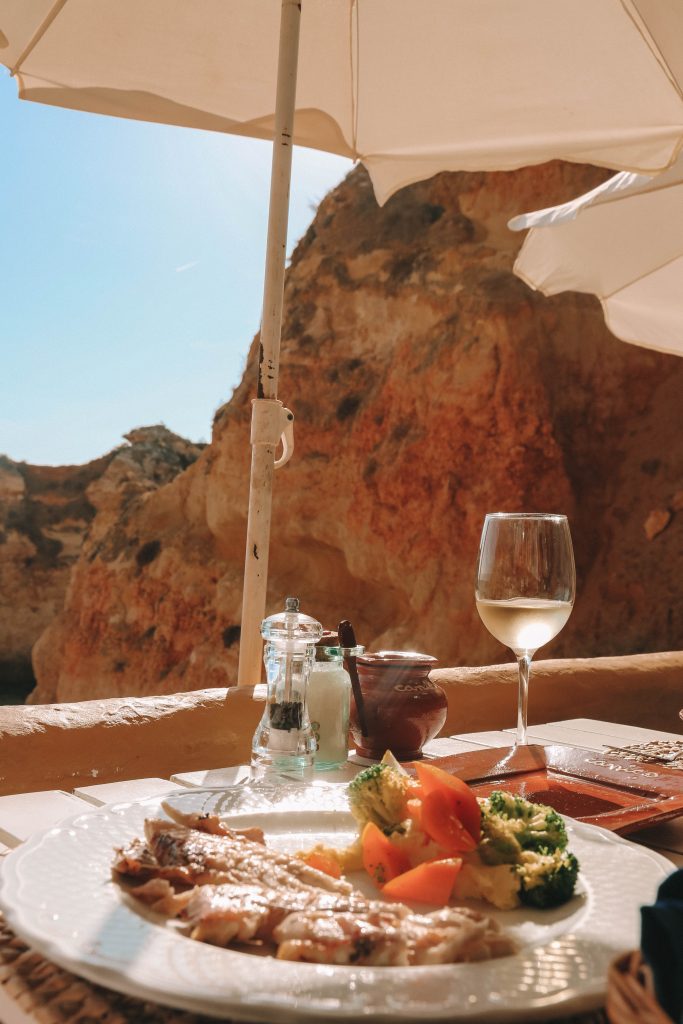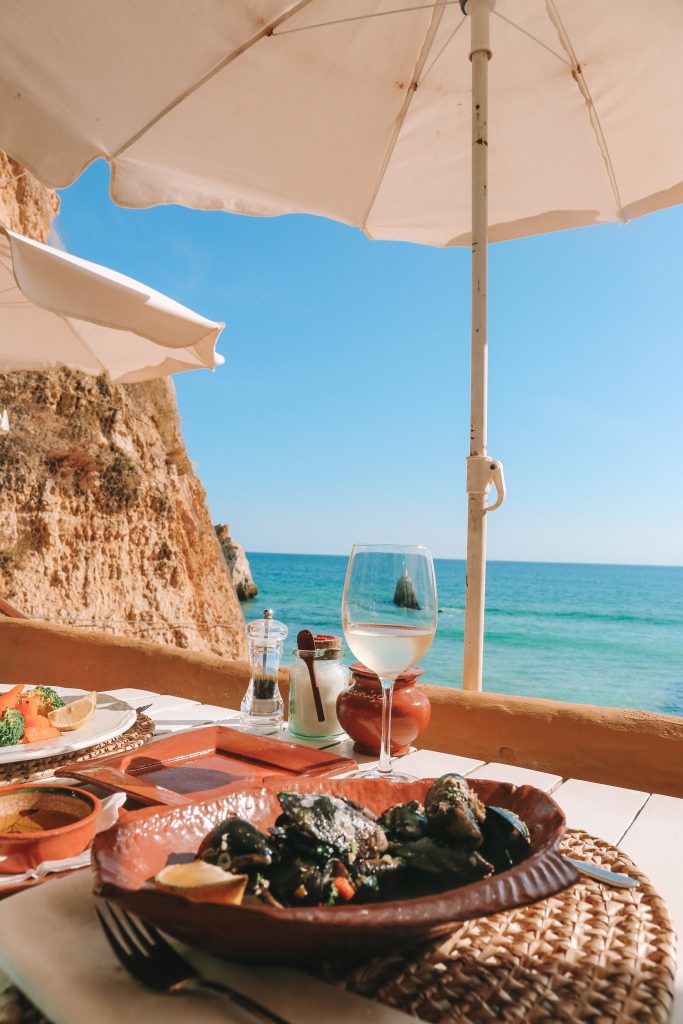 Another evening, we were pampered in the hotel restaurant Mirandus. Located in a beautiful neighborhood, the restaurant offers excellent quality cuisine with a wonderful view of the cliff over the sea. We were lucky that we were there early enough before the sunset so that we were allowed to celebrate the regional dishes in front of a romantic backdrop. In addition, there is also a tasty selection of vegetarian, vegan and raw food.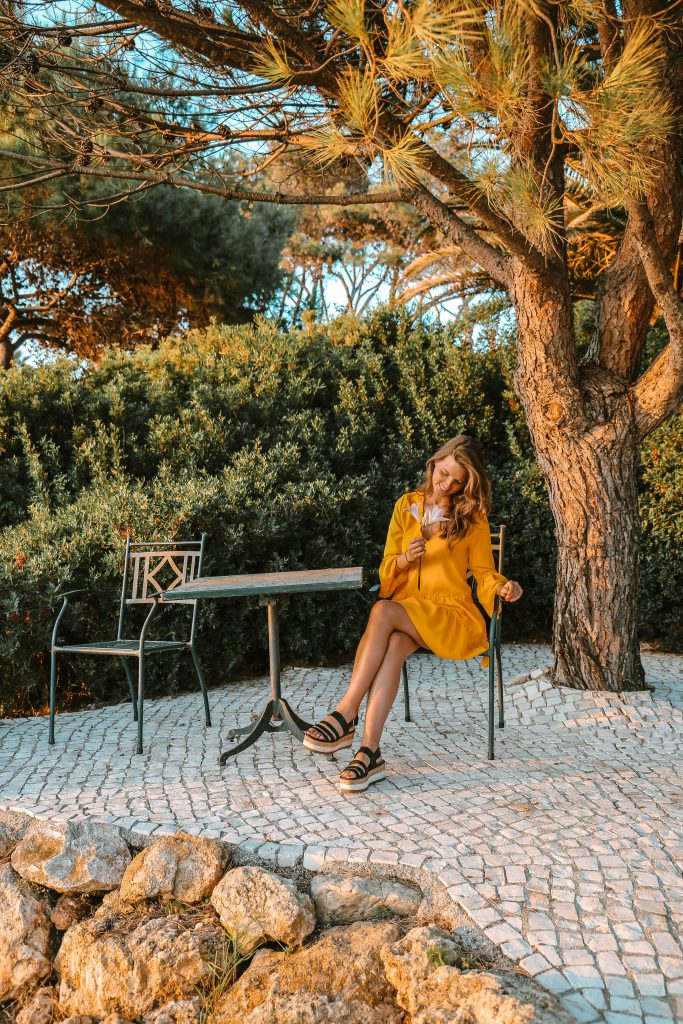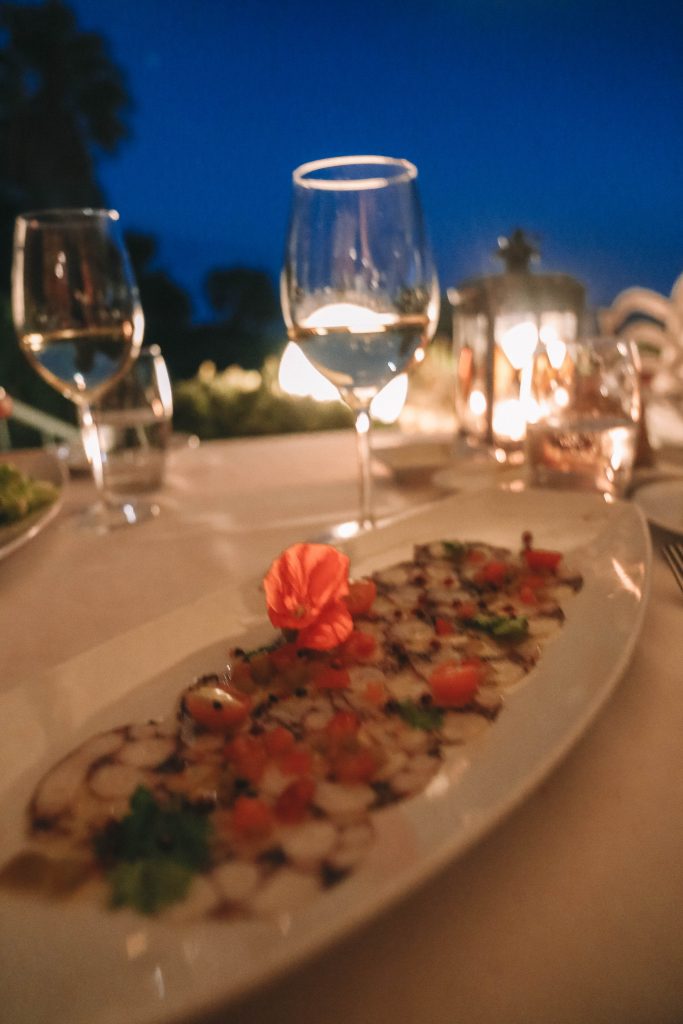 5. Out-of-this-World Beaches
Directly in front of the restaurant Canico, you will find the João de Arens Beach. At low tide, you can even go through a rock tunnel and visit the almost untouched neighboring beach. If you are unable to see the rock tunnel from below, you will also have the opportunity to admire the breathtaking coast at the top of the rock and choose a beautiful spot.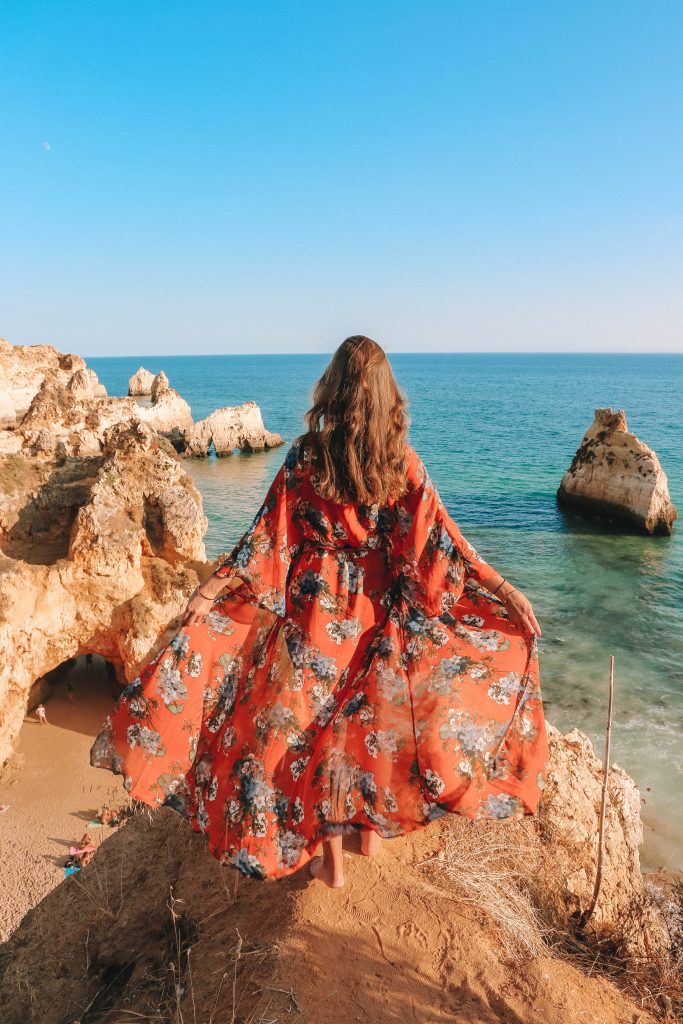 The crystal blue water in the picturesque bay Praia de Albandeira has just fascinated us so much that it definitely belongs to this list. Again, it is worth the hike over the rocks, as well as the walk on the coast.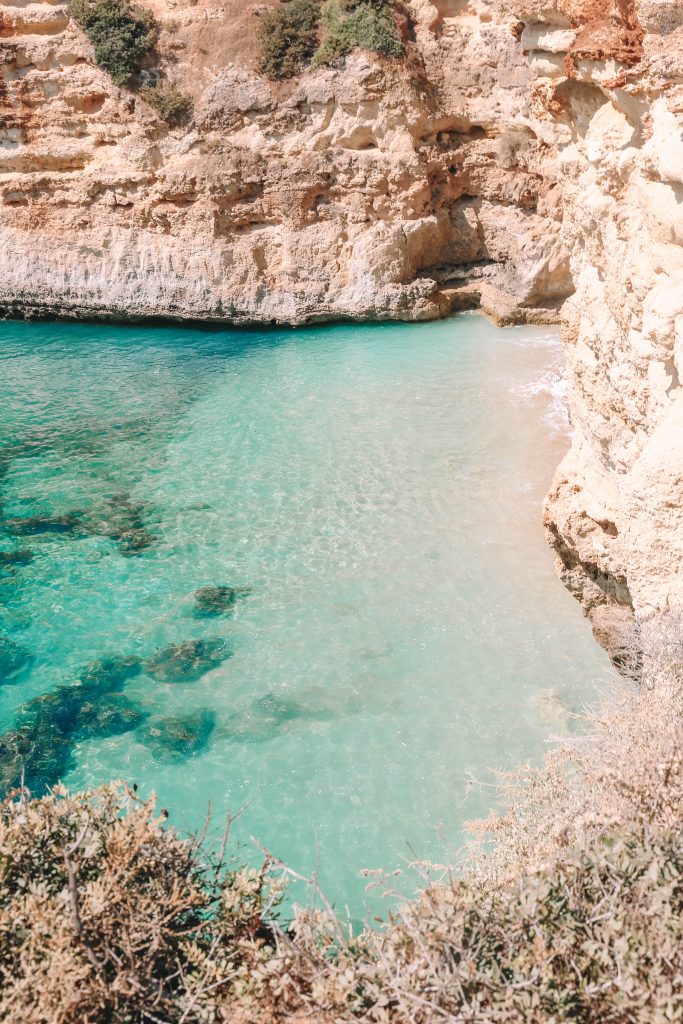 6. Discover the Tourist Attractions
The two beaches Praia Dona Ana and Ponta da Piedade are among the "Top 10" on TripAdvisor. They are both definitely worth a visit. Praia Dona Ana should be visited because of the long-known staircase to the bay and the view from the lighthouse on Ponta da Piedade also has something to offer. However, I would not dwell eternally on both the places, because they are not an insider tip. 😉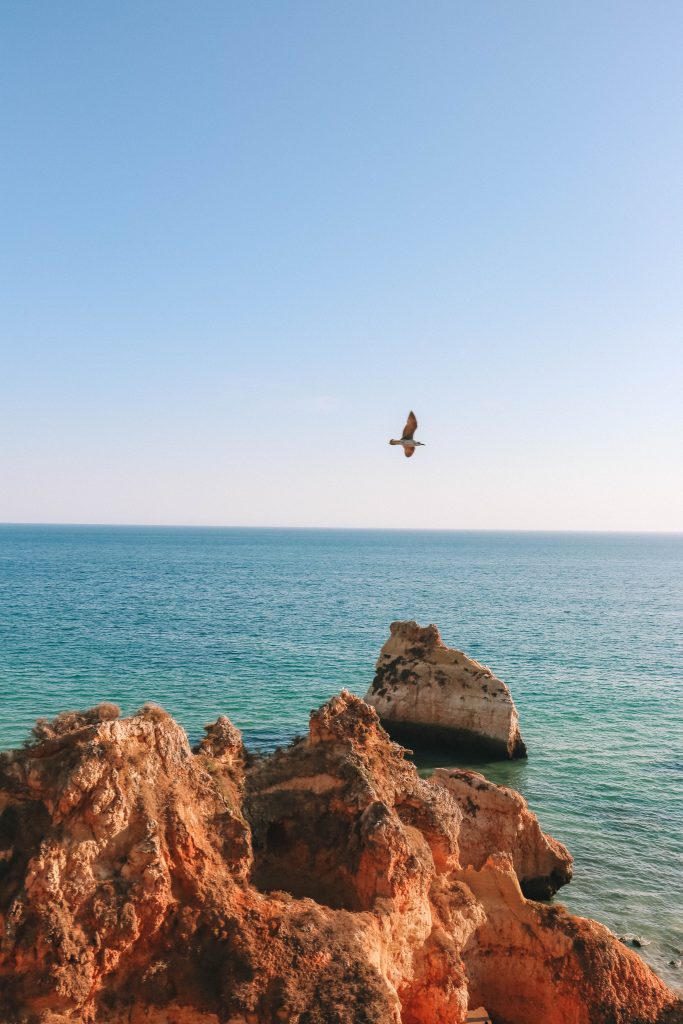 The Algarve coast has by no means has seen the last of me. With an average of 3,000 hours of sunshine per year, the Algarve is one of the sunniest regions in Europe. So, let's go! 🙂
DE
Fast jedes Land in Südeuropa habe ich bisher bereist aber Portugal steht schon seit Ewigkeiten auf meiner Liste! Mitte September wurde der Traum wahr! Nachdem wir die sagenhafte Hauptstadt und den Pena Palast in Sintra erkundet haben, nahmen wir uns direkt einen Leihwagen um zur Algarve Küste zu fahren! Innerhalb von 5 Tagen haben wir nicht nur die bunten Straßen, himmlischen Strände und ein luxuriöses Boutique Hotel für euch entdeckt, sondern auch ein sagenhaftes Restaurant mitten in einer Bucht!
Also lasst euch die schönsten Orte in Lagos auf keinen Fall entgehen und besichtigt einige Punkte meiner MUST DO Liste! 🙂 Gerade im Herbst kann man hier noch den Sommer genießen!
1.The narrow streets of Lagos
An unserem ersten Abend habe ich mich natürlich erstmal mit dem Auto in der kleinen Stadt verirrt. Das kann ich keinem empfehlen, denn die wunderschönen engen Straßen sind nicht für Autos geeignet! Jedoch perfekt zum Flanieren! Im historischen Stadtkern von Lagos stehen zahlreiche bunte Häuser und viele, die mit kunstvollen Kacheln verkleidet sind! Solltet ihr in der Stadt sein, schaut doch bei Coffee & Waves vorbei. Hier stimmt einfach alles: Kaffee, Frühstück und die Einrichtung! Die chillige & coole "Surfer-Atmosphäre" überträgt sich ganz schnell auf jeden Besucher, so dass man das kleine Café gesättigt und entspannt verlässt!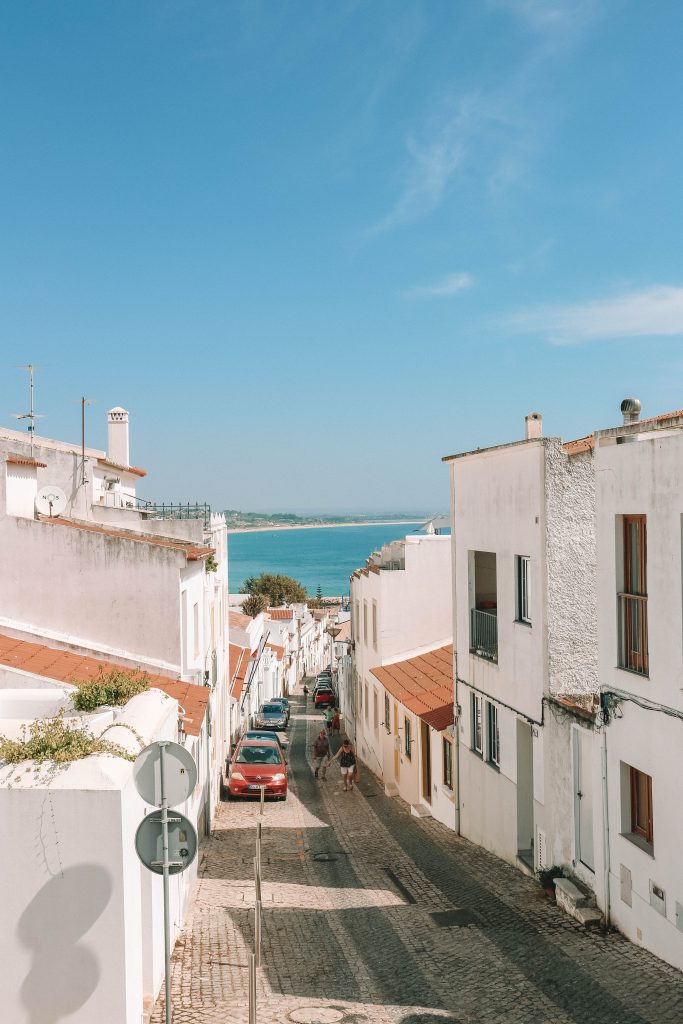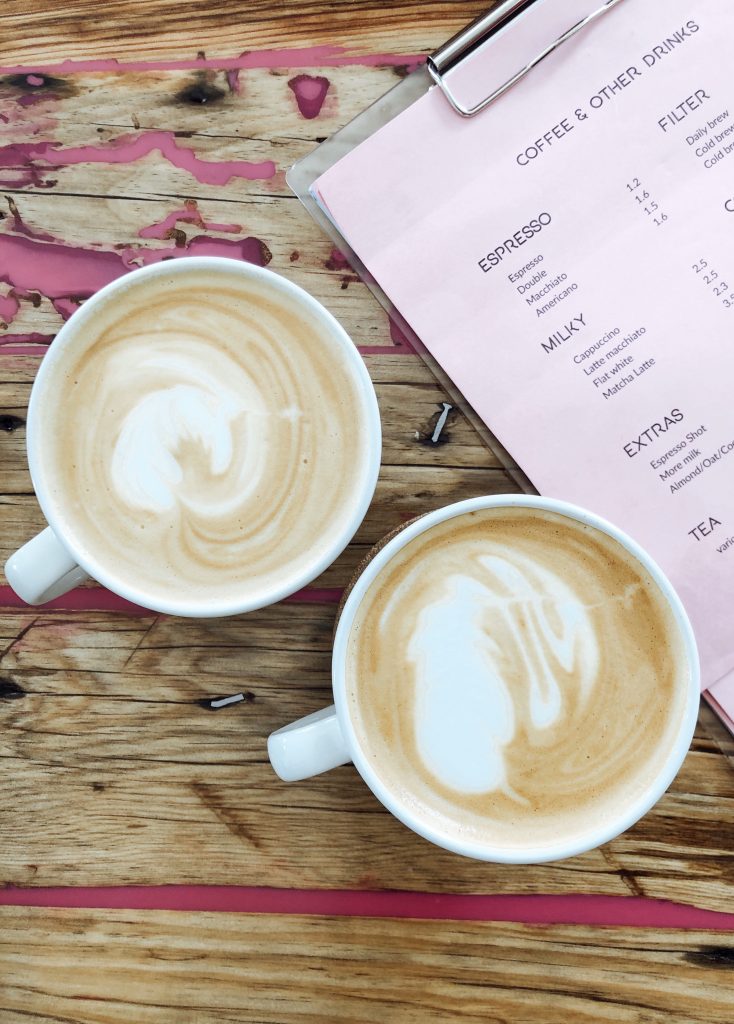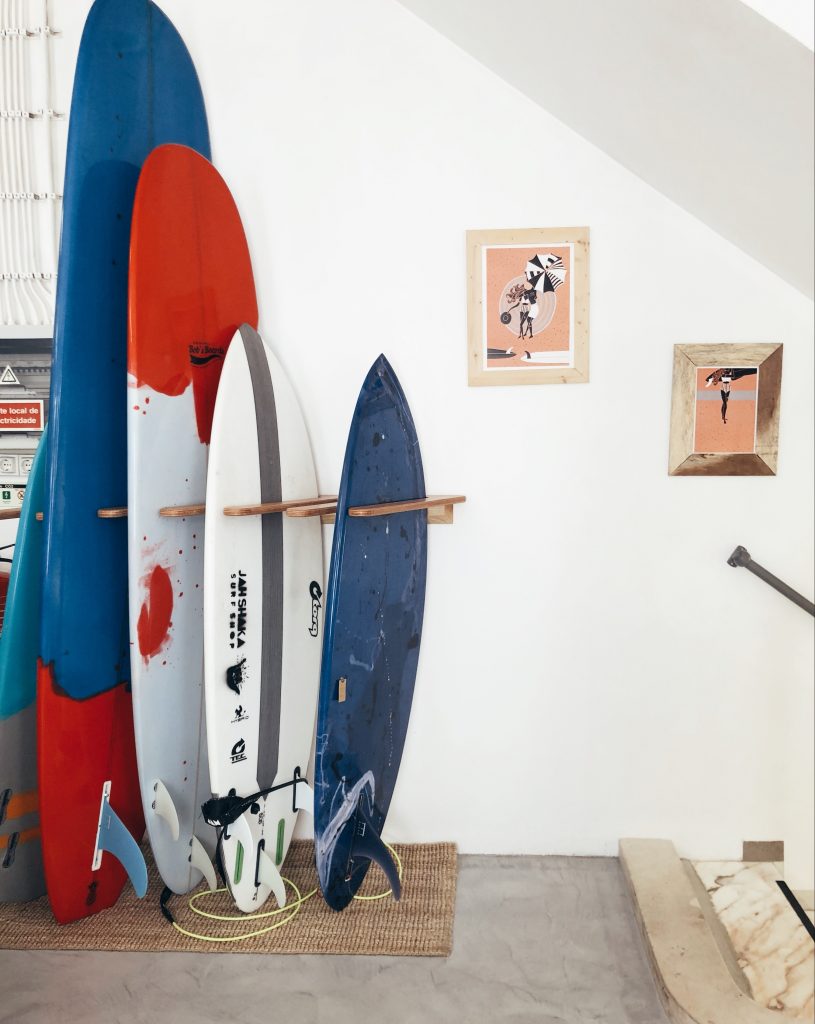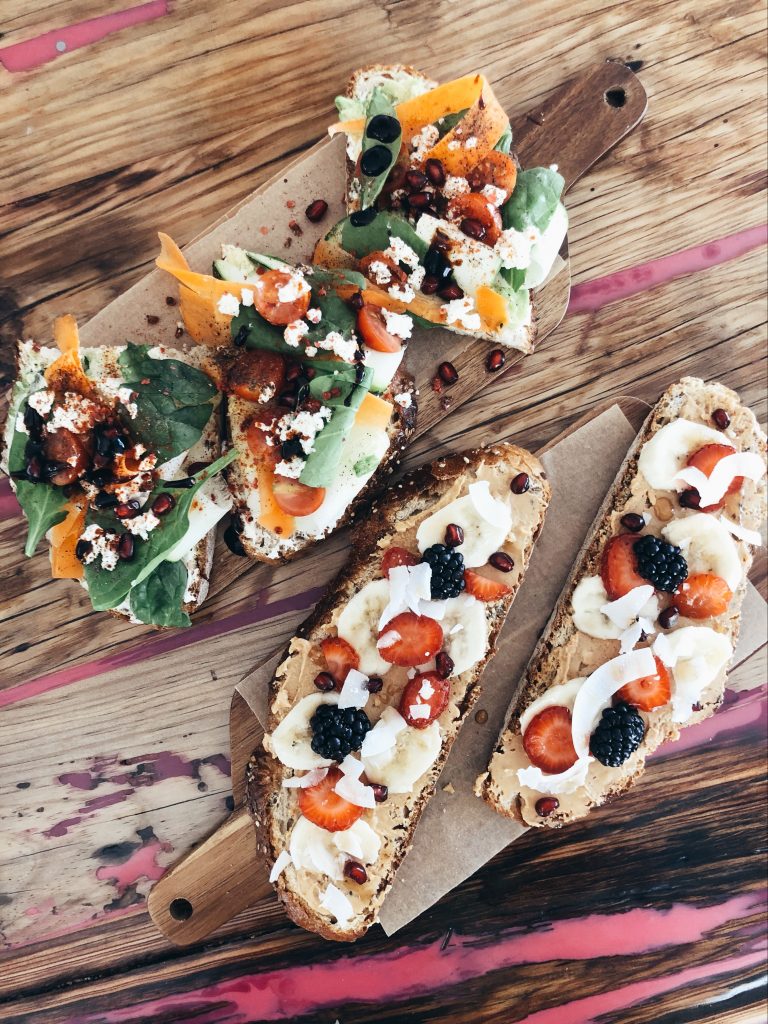 2. Meia Praia
In direkter Nähe zur Altstadt befindet sich auch ein kilometerlanger Bilderbuchstrand, wo man den Kopf bei einem langem Spaziergang zu 100% frei bekommt! Nach ungefähr 45 Minuten erreicht ihr auch das Onyria Palmares Beach House Hotel.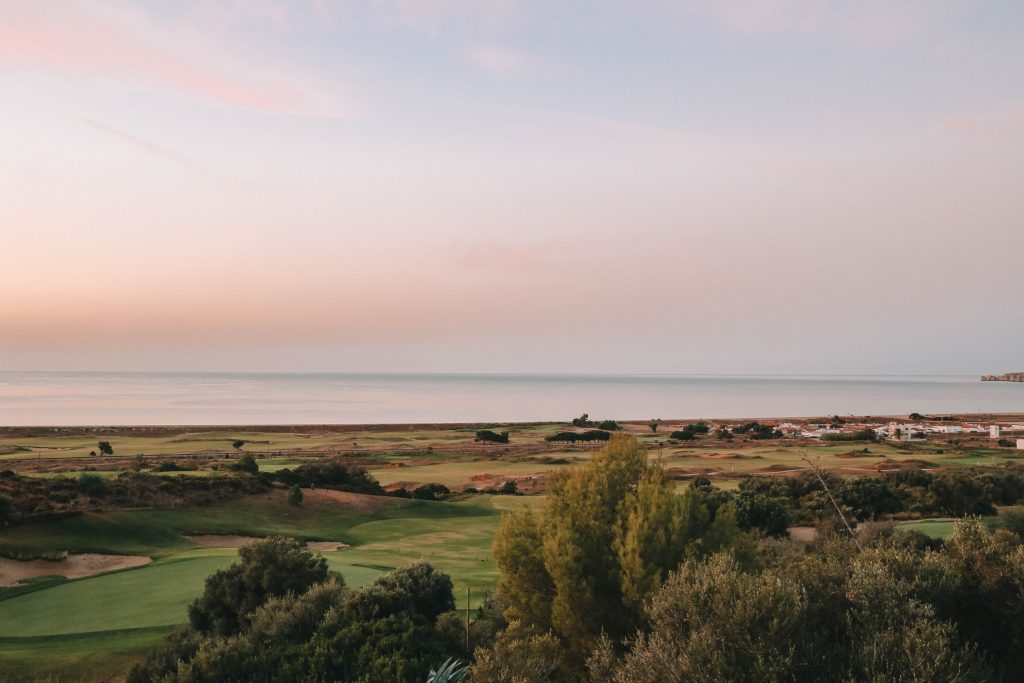 3. The Oasis in Lagos
Gerade erst im vergangen Jahr wurde Onyria Palmares Beach House Hotel mit seinen 20 großzügigen Zimmern eröffnet. Meerblick kann man sowohl von der Terrasse aber auch aus dem Bett genießen! Das qualitative Frühstück lädt morgens zum Verweilen auf der Hauptterrasse ein. Die Auswahl könnte allerdings etwas abwechslungsreicher sein. Tagsüber habt ihr allerdings eine große Auswahl an Aktivitäten! Der Golfplatz direkt vor der Tür bietet sich natürlich zum Golf spielen an! Mein Highlight war der ruhige Pool mit tollem Ausblick und nicht zu vergessen die E-Bikes! Wir hätten Lagos nicht besser erkunden können als mit den E-Bikes! Einen ganzen Tag sind wir durch die Stadt und am Meer entlang gefahren!
Den Room Service kann ich euch leider nicht nahe legen. Dafür haben wir aber zwei super Alternativen gefunden, die nur 25 Fahrminuten entfernt sind.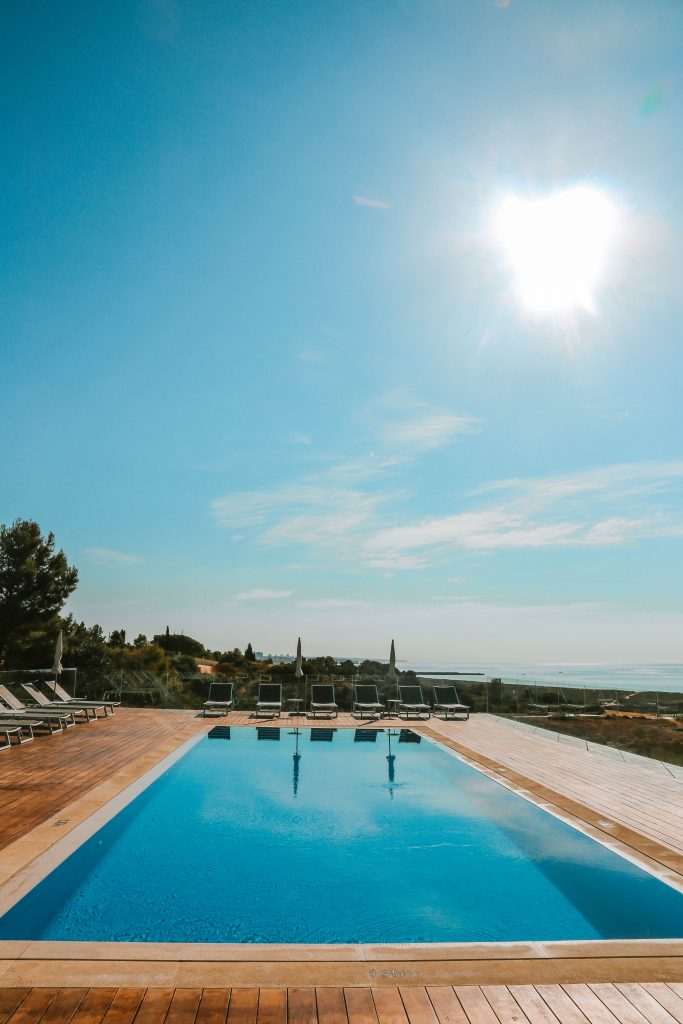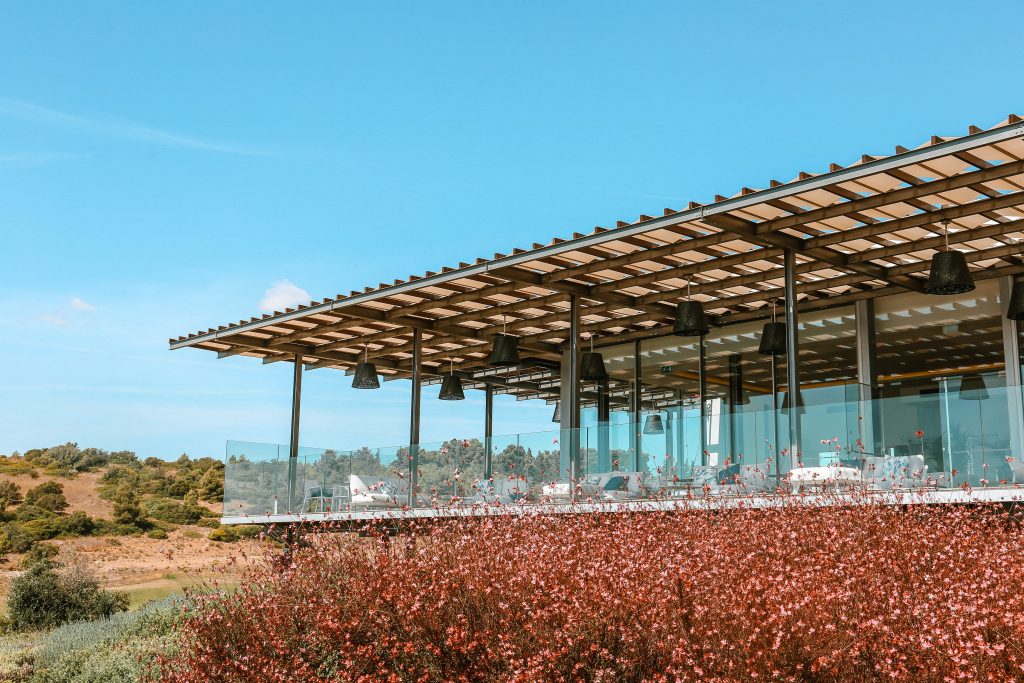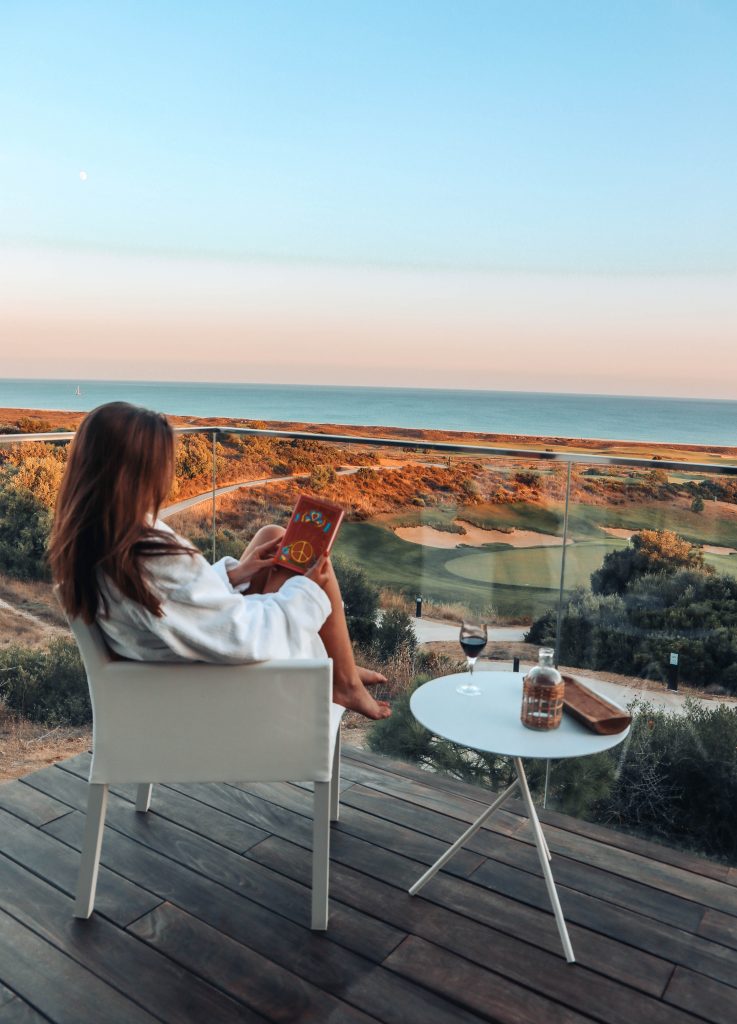 4. Food heaven
Im Restaurant Canico wird euch in einer Felsenwand direkt am Meer frischer Fisch serviert! Hier habe ich meinen neuen Lieblingswein "Vallado" entdeckt! Der Service ist sehr freundlich sobald man sitzt! Bevor der Fisch zubereitet wird, wird er euch nochmal von einem Kellner präsentiert! Ohne Reservierung ist es schwierig sofort einen Tisch zu bekommen!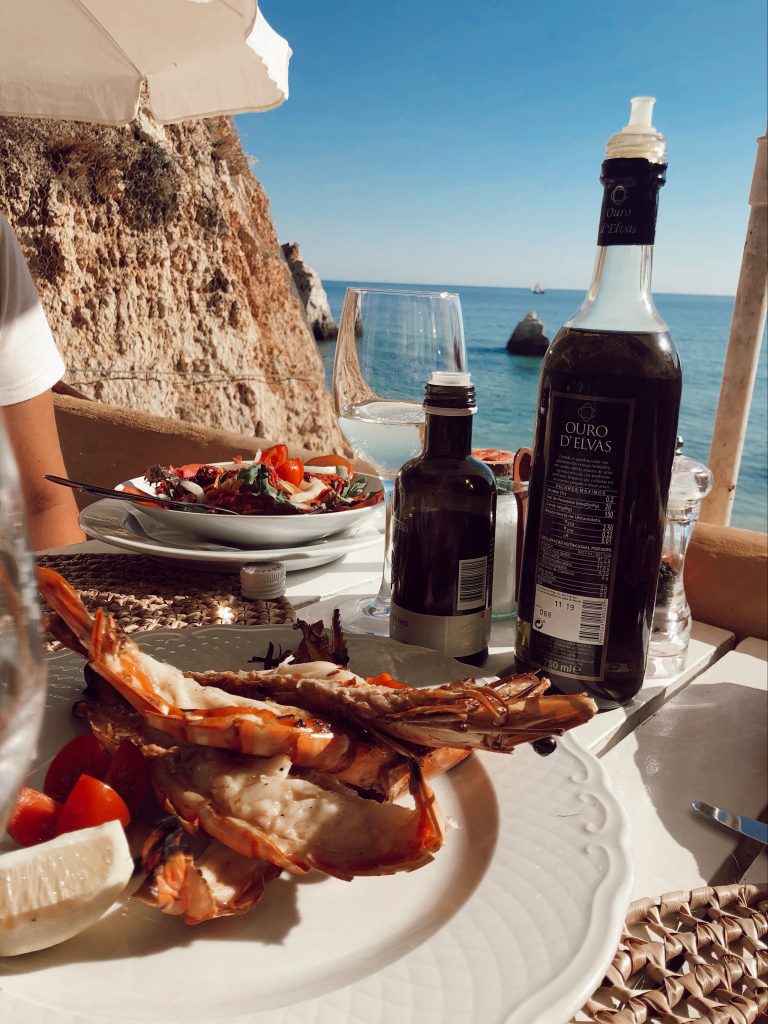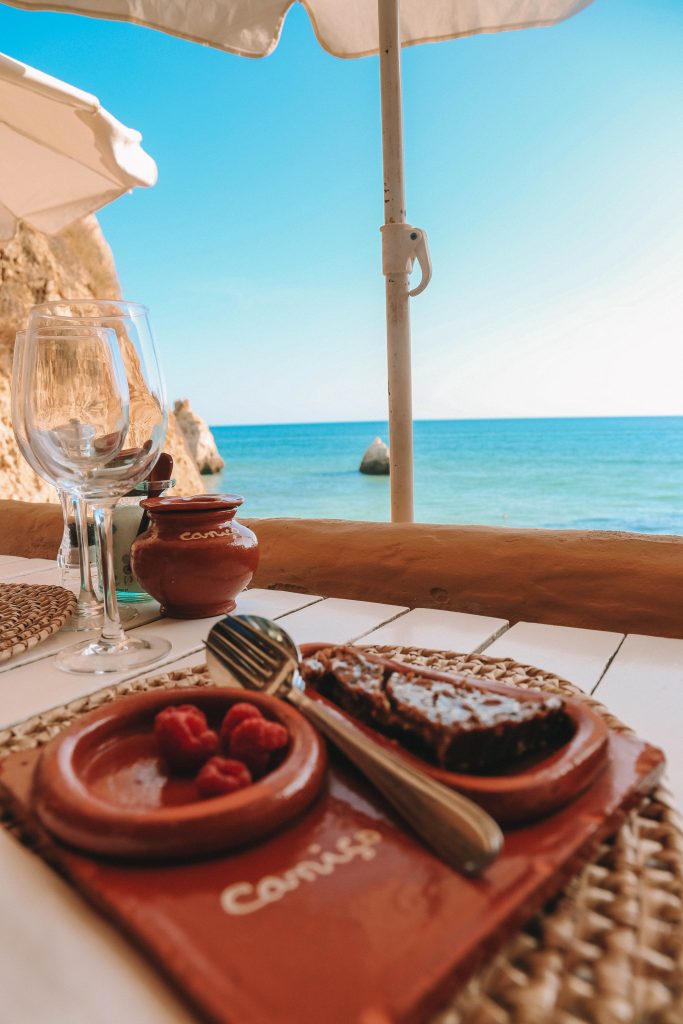 An einem anderem Abend haben wir uns im Hotelrestaurant Mirandus verwöhnen lassen. Das in einem schönen Viertel gelegene Restaurant bietet eine hervorragende und hochwertige Küche mit einen wundervollem Blick über die Steilküste aufs Meer. Wir hatten Glück, dass wir noch früh genug vor dem Sonnenuntergang da waren, so dass wir die regionalen Gerichte vor einer romantischen Kulisse zelebrieren durften. Zusätzlich gibt es auch eine schmackhafte Auswahl an vegetarischen, veganen und rohen Speisen!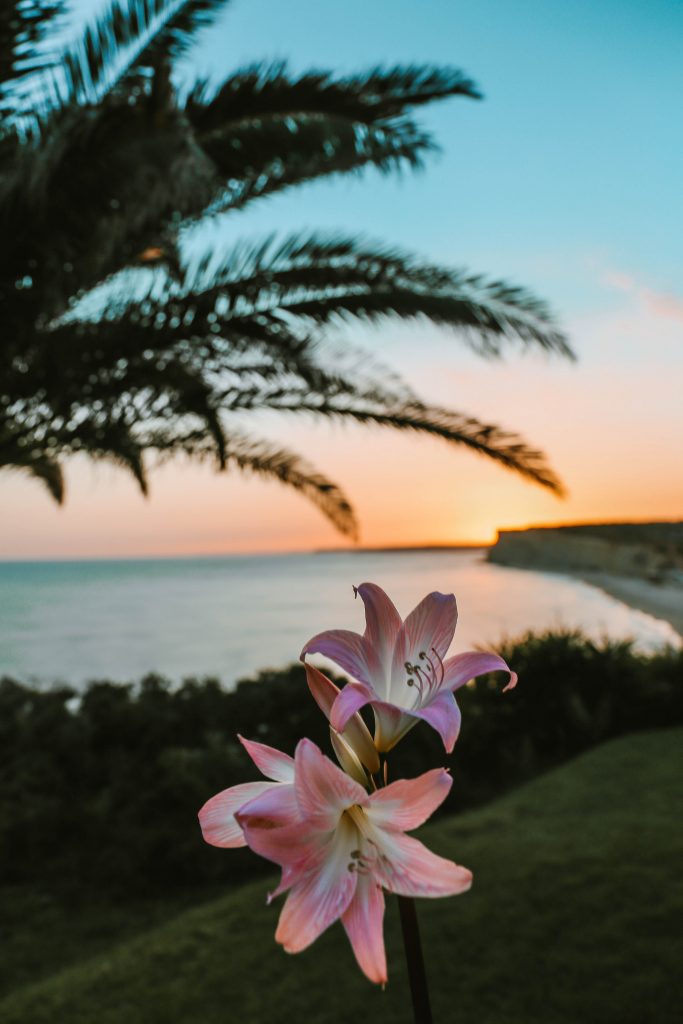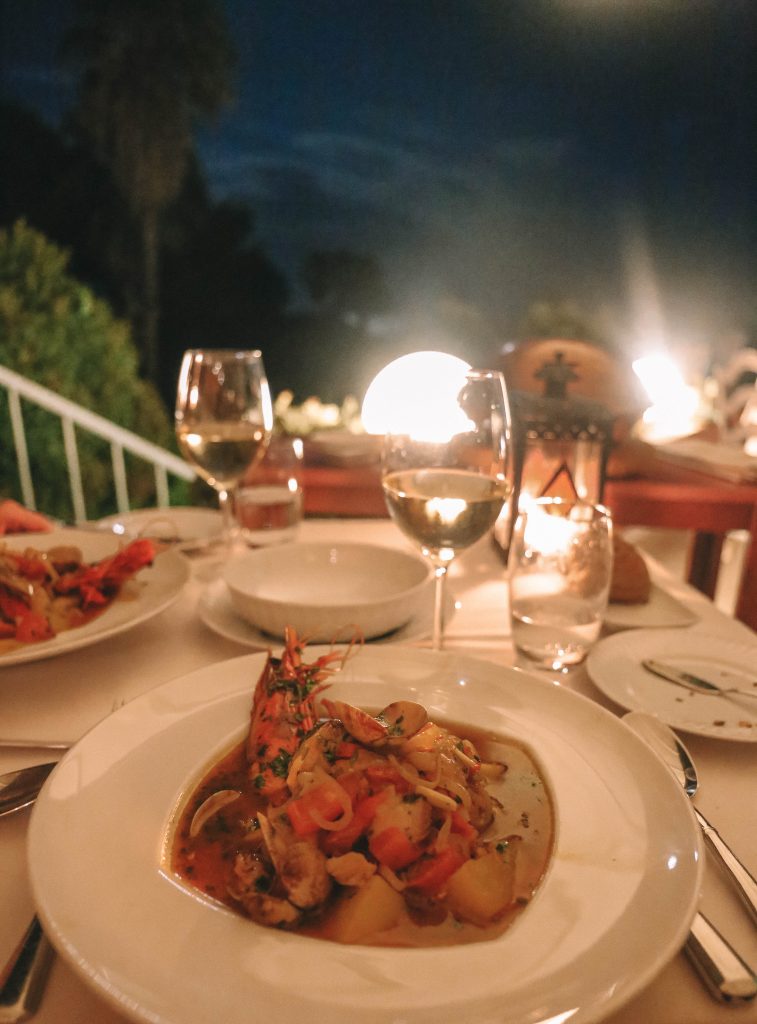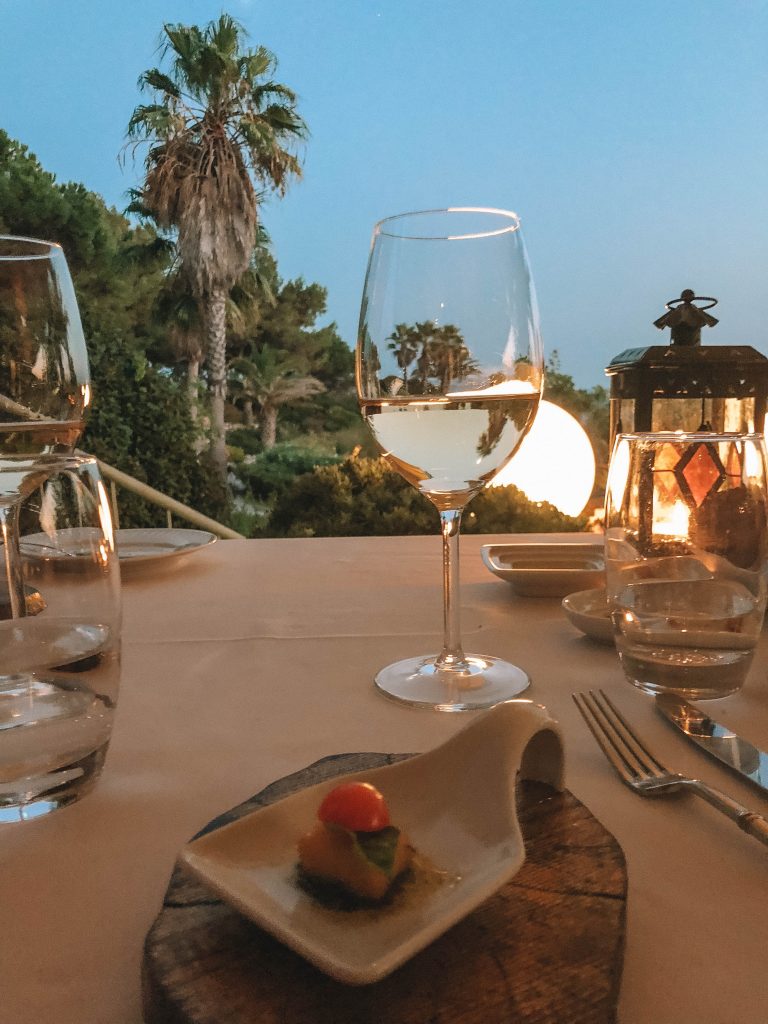 5. Out-of-this world beaches
Direkt vor dem Restaurant Canico findet ihr den João de Arens Beach. Bei Ebbe könnt ihr hier sogar durch einen Felsentunnel gehen und den fast unberührten Nachbarstrand besuchen. Falls ihr den Felsentunnel von unten nicht sehen könnt, habt ihr auch oben auf dem Felsen die Möglichkeit die atemberaubende Küste zu bewundern und euch einen schönen Platz auszusuchen.
Das kristallblaue Wasser in der malerischen Bucht Praia de Albandeira hat uns einfach so fasziniert, dass er auch auf jeden Fall auf diese Liste gehört! Auch hier lohnt sich sowohl die Wanderung über die Felsen, als auch der Spaziergang an der Küste!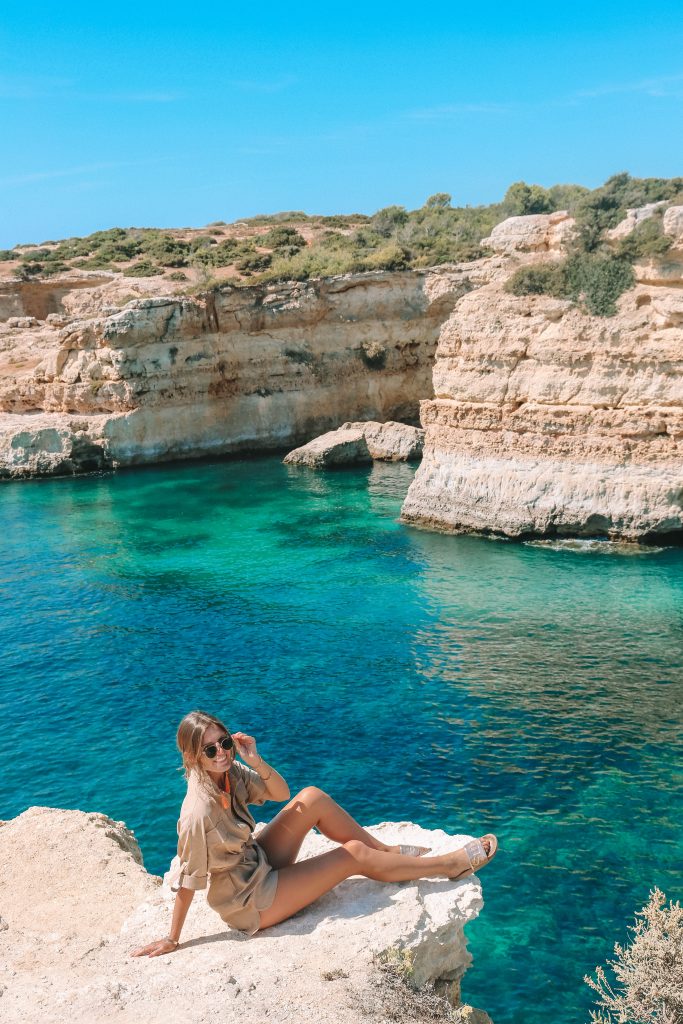 6. Discover the tourist attractions
Die beiden Strände Praia Dona Ana und Ponta da Piedade gehören zu den TOP 10 bei Tripadvisor. Sie sind auch beide auf jeden Fall einen Besuch wert! Praia Dona Ana sollte man aufgrund der langen bekannten Treppe zur Bucht besucht haben und der Blick vom Leuchtturm am Ponta da Piedade hat auch etwas zu bieten! Allerdings würde ich an beiden Orten nicht Ewigkeiten verweilen, da sie kein Geheimtipp sind. 😉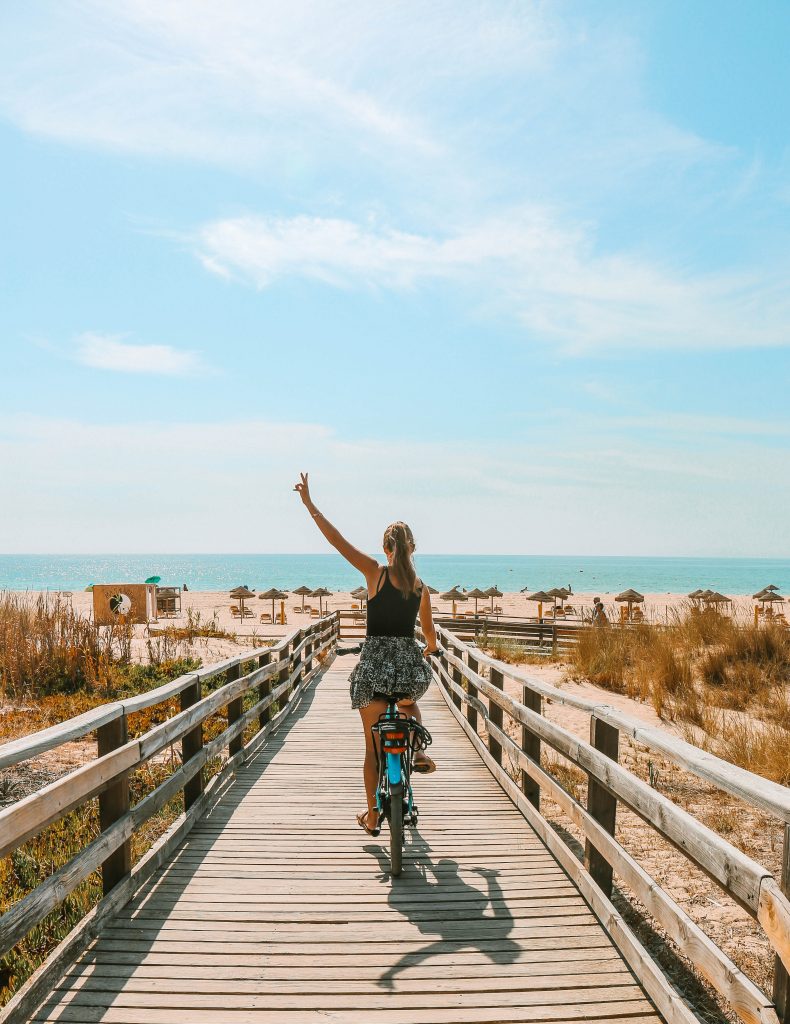 Mich hat die Algarveküste auf keinen Fall zum letzten Mal gesehen! Mit durchschnittlich 3.000 Sonnenstunden pro Jahr gehört die Algarve zu den sonnenreichsten Regionen in Europa! Also nichts wie los! 🙂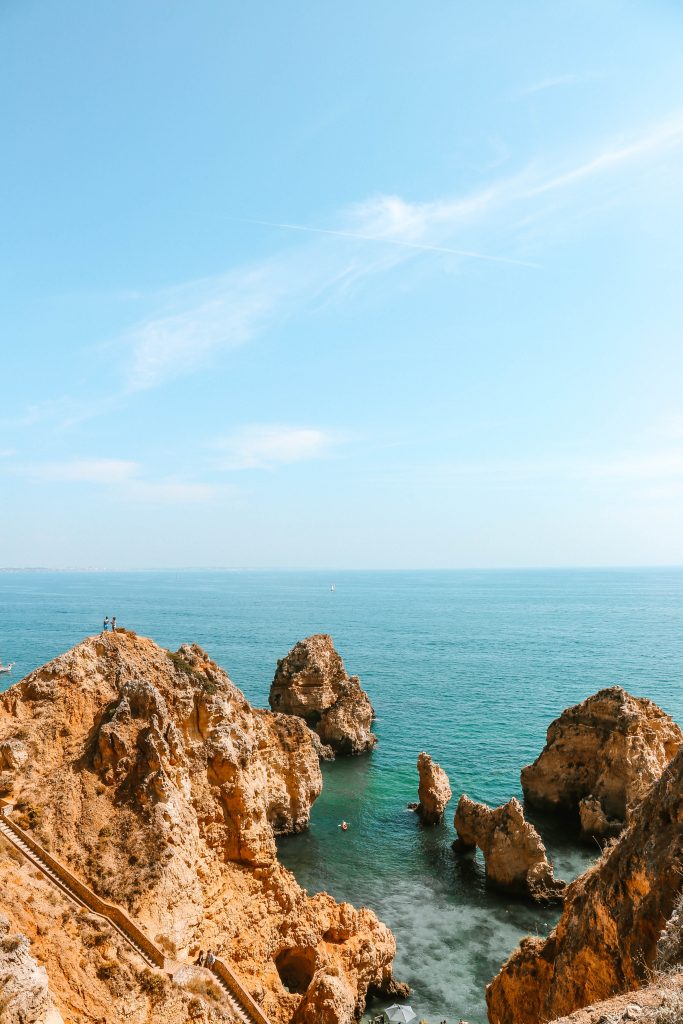 Advertisement / Anzeige