When you travel to Cape Town, there are certain things you should definitely do!
Wenn ihr nach Kapstadt reist, gibt es gewisse Dinge, die man auf jeden Fall gemacht haben sollte!
Take a picture in front of the colorful houses in Bo-Kaap
Take a picture in front of colorful houses in Bo-Kaap
The colorful houses in Bo-Kaap lie inconspicuously at the foot of Signal Hill. They are one of the most popular photo spots for Instagramer, Photoshoots and Film Crews. Opposite you get in the Harvest Café delicious soft and warm drinks. In addition you will have a great view from the roof terrace on the colorful street (insider tip)!
Ganz unscheinbar liegen die bunten Häuser in Bo-Kaap zu Füßen des Signal Hills. Sie sind mit einer der beliebtesten Fotospots für Instagramer, Photoshoot und Film Crews. Gegenüber bekommt ihr in dem Harvest Café leckere Erfrischungsgetränke und zusätzlich einen tollen Blick von der Dachterrasse über die bunte Straße (Geheimtipp)!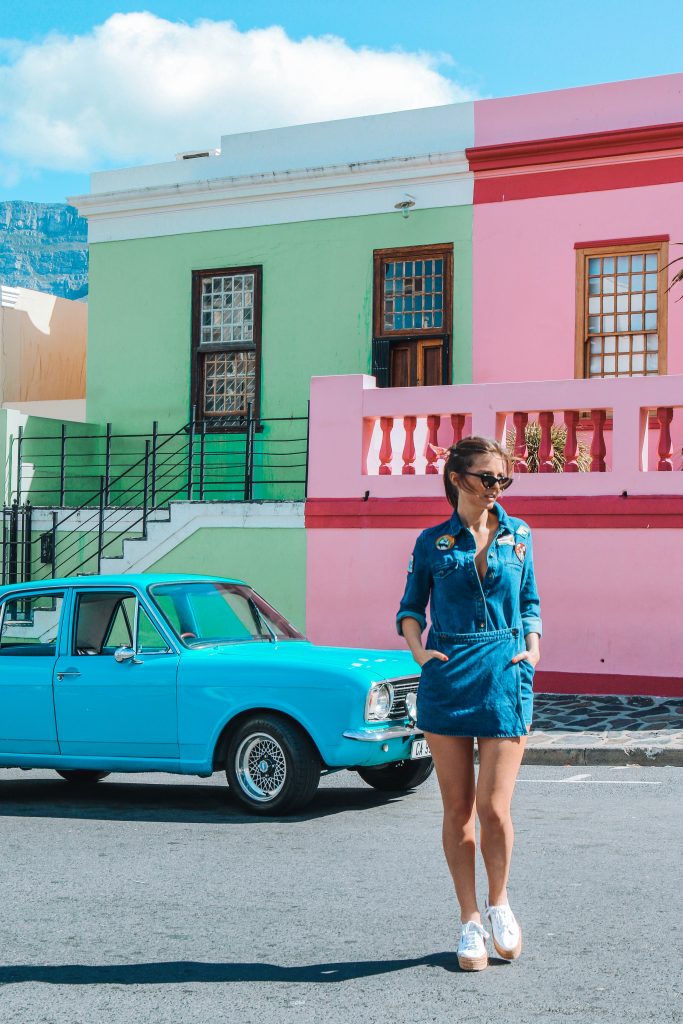 Chapman's Peak Drive & Noordhoeck Beach
The nine-kilometer coastal road leads directly to the most beautiful beach I have seen in a long time! The white eight-kilometer Noordhoeck Beach is just a dream! Since the beach is so big and unknown, you almost feel like you have everything for yourself. From time to time, horses pass by and are carried on a beach ride. If you want, you can take part in a ride at 9, 10 or 16 o'clock!
Die neun Kilometer lange Küstenstraße führt direkt zu dem schönsten Strand, den ich seit langem gesehen habe! Der weiße acht Kilometer lange Noordhoeck Beach ist einfach nur ein Traum! Da der Strand so groß und unbekannt ist, fühlt man sich fast als hätte man alles für sich. Ab und zu kommen Pferde vorbei, die für einen Strandritt ausgeführt werden. Wer möchte kann um 9, 10 oder 16 Uhr an einem Ausritt teilnehmen!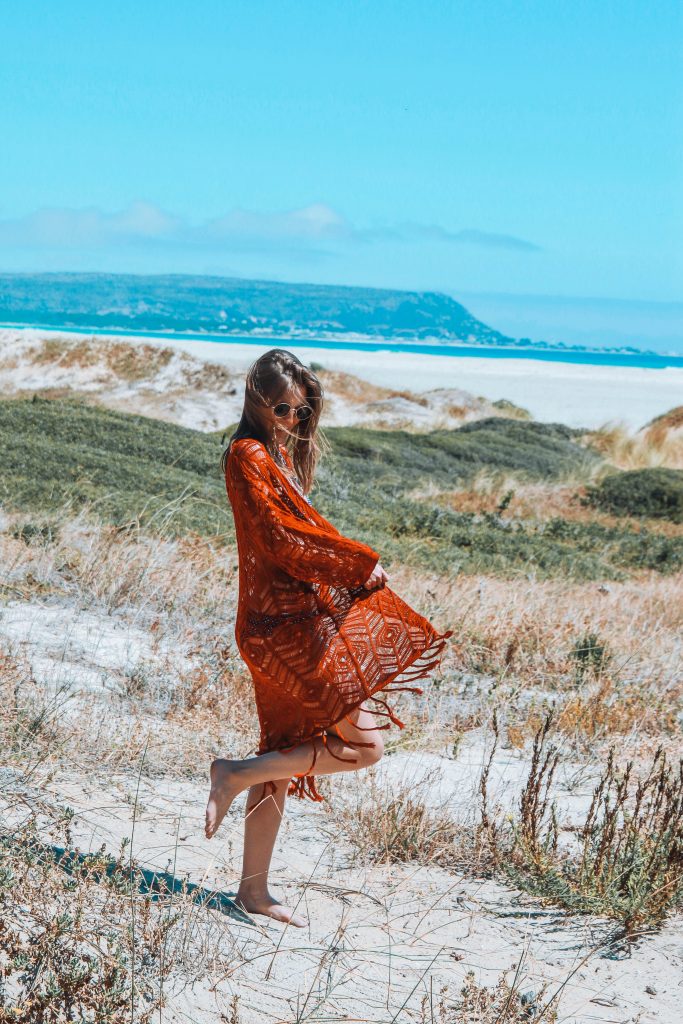 Boulders Beach
Most of you must have seen penguins at the zoo but at Boulders Beach in Simon's Town they are really close! I recommend you to take the 2 entrance directly to the beach and climb over the stones from there, so you get close to the penguins and are far away from all the tourists.
Die meisten von euch werden Pinguine schon im Zoo gesehen haben, aber am Boulders Beach in Simon's Town sind sie wirklich zum Greifen nah! Ich empfehle euch den 2. Eingang direkt zum Beach zu nehmen und von dort aus etwas über die Steine zu klettern, damit ihr ganz nah an die Pinguine dran kommt und weit weg von den ganzen Touristen seid.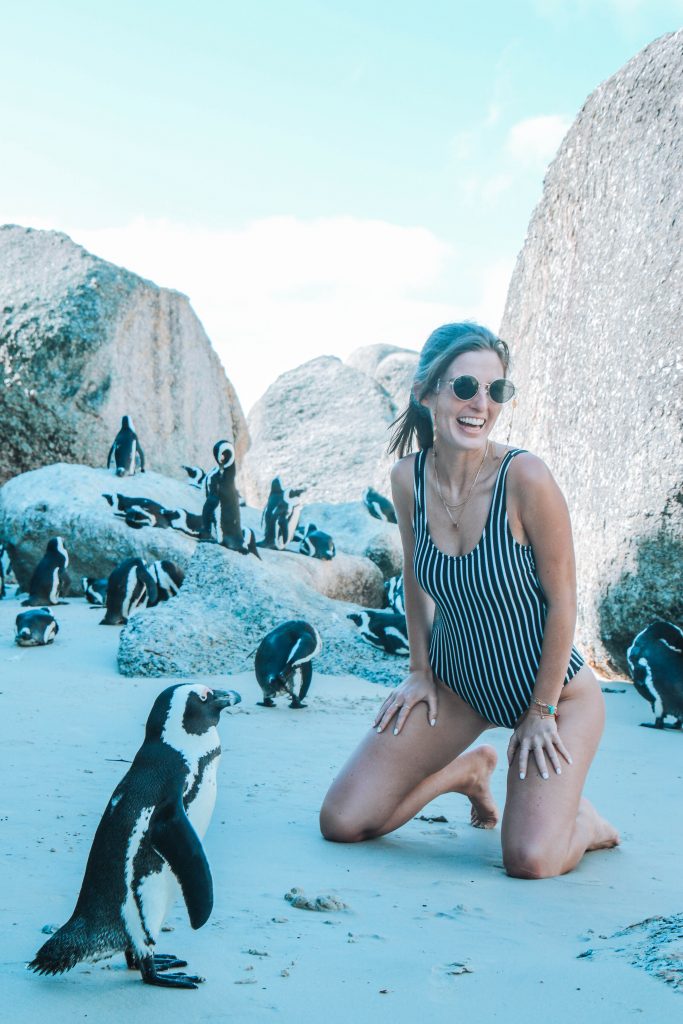 Enjoy the view from Table Bay
In Cape Town you can see the city from almost every angle, whether from the air, from Table Mountain or even from a yacht! We booked the Sunset Cruise from Mirage one night and were by no means disappointed! The musical and culinary entertainment made us enjoy the Catamaran cruise very much! During the trip, we not only admired the city, but also the sea lions that swam next to us.
In Kapstadt kann man die Stadt fast aus jedem Winkel sehen, ob aus der Luft, vom Tafelberg oder aber auch von einer Yacht aus! Wir haben an einem Abend die Sunset Cruise von Mirage gebucht und wurden auf keinen Fall enttäuscht! Die musikalische und kulinarische Unterhaltung hat uns die Katamaranfahrt sehr genießen lassen! Während der Fahrt haben wir nicht nur die Stadt bewundert, sondern auch die Seelöwen, die neben uns geschwommen sind.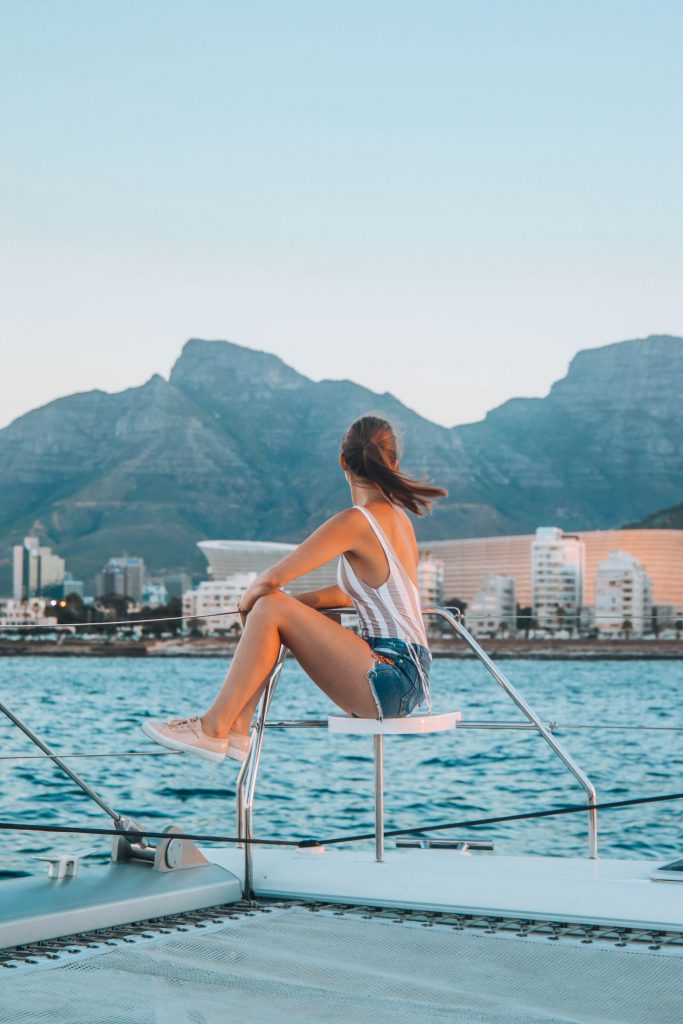 Aquila Safari
When you're in South Africa, it's not enough just to see a sea lion! The BIG 5 are definitely a MUST! Of course, they are not seen in the city, but if you travel by shuttle or car 2 hours outside of Cape Town, you can find the Big 5 during a 3 hour jeep tour! Not only the Aquila Safari is worth it, but also the beautiful landscape during the 2 hour drive! However, do not stop at fake mishaps or street vendors!
Wenn man in Südafrika ist, reicht es nicht nur einen Seelöwen gesehen zu haben! Die BIG 5 sind auf jeden Fall ein MUSS! In der Stadt sind sie natürlich nicht zu sehen, aber wenn ihr mit dem Shuttle oder dem Auto 2 Stunden außerhalb von Kapstadt fahrt, könnt ihr während einer 3-stündigen Jeep Tour die Big 5 antreffen! Nicht nur die Safari lohnt sich, sondern auch die wunderschöne Landschaft während der 2-stündigen Fahrt! Haltet allerdings nicht bei vorgetäuschten Pannen oder Straßenhändlern an!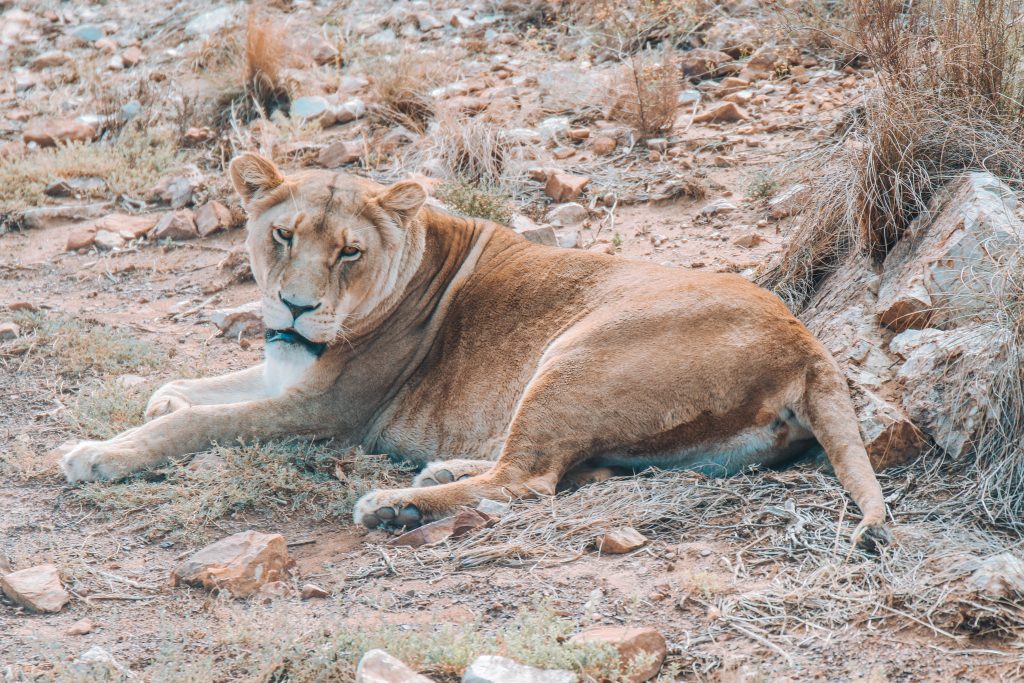 Find Cape Town's highest Point
The landmark of Cape Town, Table Mountain, you have to visit in any case! From here you have a 360 ° view of Cape Town! It does not matter what time you go up, the view is always gigantic! BUT there should be no clouds or fog in the sky, otherwise you cannot see everything!
Das Wahrzeichen von Kapstadt, den Tafelberg, muss man auf jeden Fall besichtig haben! Von hier hat man einen 360° Blick auf Kapstadt! Es ist egal zu welcher Uhrzeit ihr hochfahrt, der Blick ist immer gigantisch! ABER es sollten keine Wolken bzw. Nebel am Himmel sein, ansonsten könnt ihr nicht alles sehen!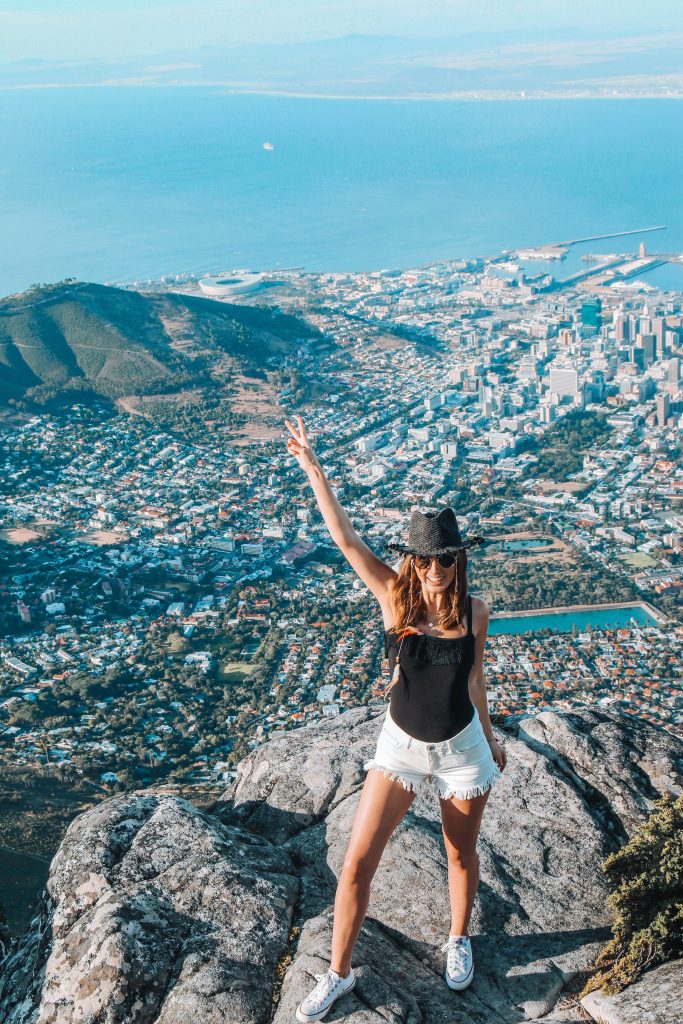 Get the absolute adrenaline kick
Those who are not yet ready for Table Mountain and who want to climb the top themselves, can get the absolute adrenaline kick on the Lion's Head. Probably only I found it as exciting and thrilling but it always depends on how to deal with altitude and narrow roads. The feeling when you arrive at the top is indescribable! Do not forget to take enough water and sugar with you. You should not climb like us at over 30 °.
Wem der Tafelberg noch nicht reicht und wer selbst die Spitze besteigen möchte, kann sich den absoluten Adrenalinkick auf dem Lion's Head holen. Wahrscheinlich empfand nur ich es als mega spannend und aufregend, aber es kommt immer drauf an, wie man mit Höhe und engen Wegen umgehen kann. Das Gefühl, wenn man oben angekommen ist, ist unbeschreiblich! Vergesst nicht ausreichend Wasser und Zucker mitzunehmen. Ihr solltet auch nicht wie wir bei über 30° hochklettern.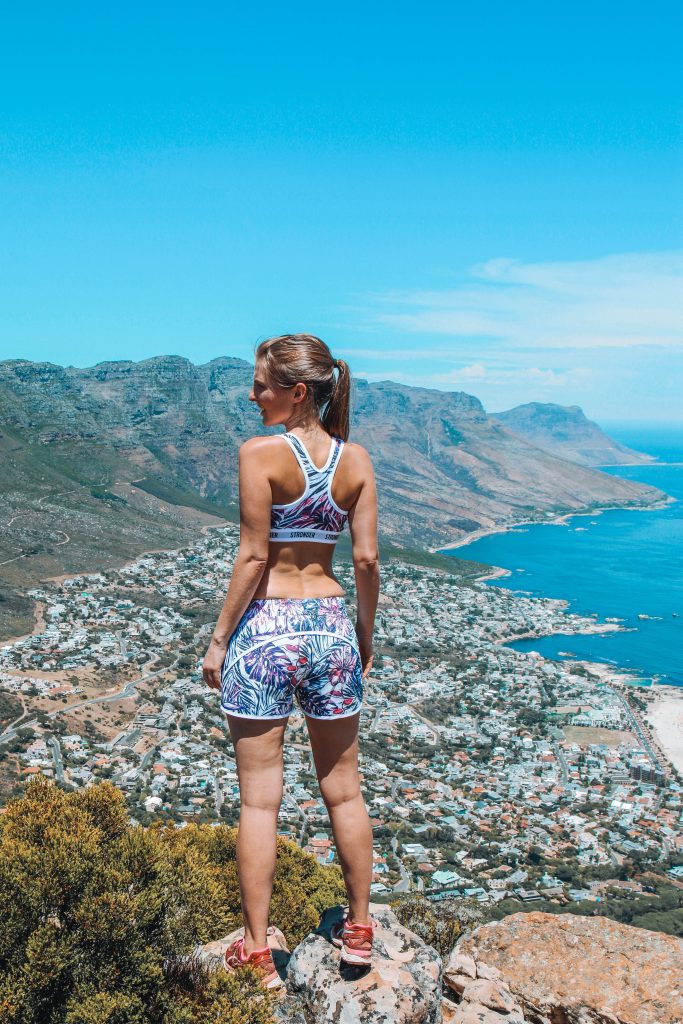 Helicopter ride
If you want to fly high, fly with Cape Town Helicopters along the Atlantic coast. Our pilot, Bryon, not only brought us back safely, but also told us a lot about the sights and places on the Atlantic coast. For example, where Lion's Head got its name from. The name comes from the fact that the Lion's Head looks like a lying lion from the sea.
Wer ganz hoch hinaus möchte, fliegt mit Cape Town Helicopters an der Atlantik Küste entlang. Unser Pilot, Bryon, hat uns nicht nur sicher zurückgebracht, sondern auch vieles über die Sehenswürdigkeiten und Orte an der Atlantikküste erzählt. Zum Beispiel woher Lion's Head seinen Namen hat. Der Name kommt daher, dass der Lion's Head für Schifffahrer vom Meer aus wie ein liegender Löwe aussieht.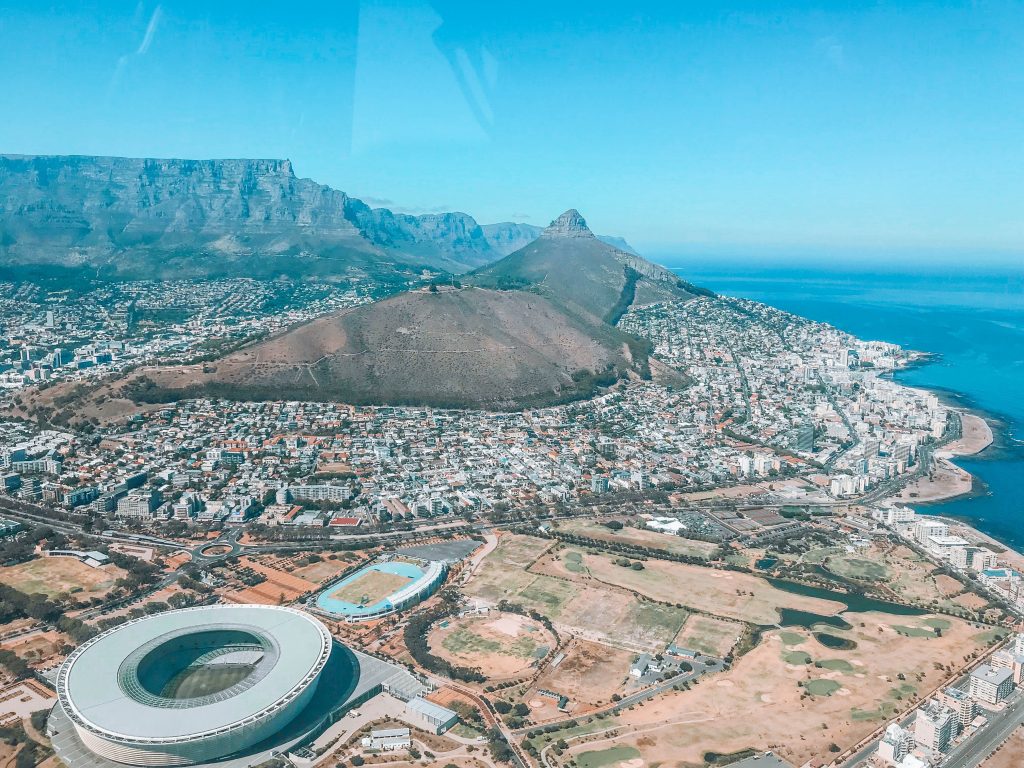 Clifton Beach
For a beach day, you do not have to drive out of Cape Town! You can easily reach Clifton by bus, Uber, car or even on foot. There you can see the bays from the top and decide on one of the wonderful sandy beaches! Watch as the sun shines on the area's most prestigious residential buildings and let your feet cool off in the cold Atlantic Ocean. If you get hungry, you just need to go one place further. On the promenade of Camps Bay there are numerous restaurants (with WIFI).
Für einen Strandtag müsst ihr aber nicht aus Kapstadt herausfahren! Ihr kommt mit dem Bus, Uber, Auto oder aber auch zu Fuß ganz einfach nach Clifton. Dort könnt ihr von oben aus schon die Buchten sehen und euch für eine der wundervollen Sandstrände entscheiden! Schaut euch an wie die Sonne auf die renommiertesten Wohngebäude der Gegend scheint und lasst dabei eure Füße im kalten Atlantik abkühlen. Solltet ihr Hunger bekommen, braucht ihr nur einen Ort weitergehen. An der Promenade von Camps Bay gibt es zahlreiche Restaurants (mit WIFI).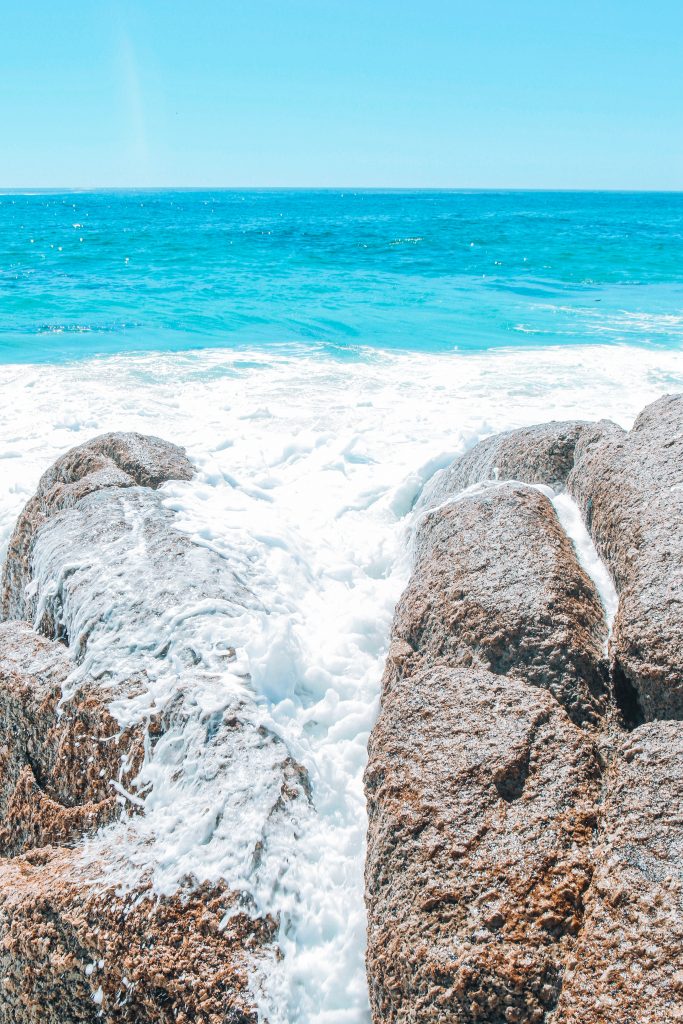 Table Mountain National Park
And suddenly a baboon stood on our car …. This is one of the many memorable moments I have from Table Mountain National Park. Luckily we had a rental car from First Car Rental and were able to explore every corner of the national park! Unfortunately, we only had 2 hours left but you can plan a whole day for your stay in the National Park! There are beautiful beaches to relax and other animals are waiting for you on every corner! Not to forget, of course, is the Cape of Good Hope, the southernmost point in Africa.
Und auf einmal Stand ein Pavian auf unserem Auto…. Das ist einer der zahlreichen und unvergesslichen Momente, die ich aus dem Table Mountain National Park habe. Wir hatten zum Glück einen Mietwagen von First Car Rental und konnten jede Ecke des Nationalparks selbst erkunden! Leider hatten wir nur noch 2 Stunden Zeit, aber ihr könnt für euren Aufenthalt im Nationalpark einen ganzen Tag einplanen! Es gibt wunderschöne Strände zum Entspannen und an jeder Ecke warten andere Tiere auf euch! Nicht zu vergessen ist natürlich das Kap der Guten Hoffnung, der südlichste Punkt in Afrika.
Kirstenbosch Botanical Garden
Almost every city has a botanical garden, I always think and I visit them rarely, but the botanical garden Kirstenbosch is anything but a botanical garden! Due to its enormous size everything goes on site and a large number of visitors come to relax and picnic on the green areas. My highlight was of course the bridge in the green with a view of Table Mountain.
Fast jede Stadt hat einen botanischen Garten, denke ich mir immer und ich besuche sie eigentlich auch nur selten, aber der botanische Garten Kirstenbosch ist alles andere als nur ein botanischer Garten! Aufgrund seiner enormen Größe verläuft sich alles vor Ort und eine Vielzahl der Besucher kommen auch nur, um sich auf den Grünflächen zu entspannen und zu picknicken. Mein Highlight war natürlich die Brücke im Grünen mit Blick auf den Tafelberg.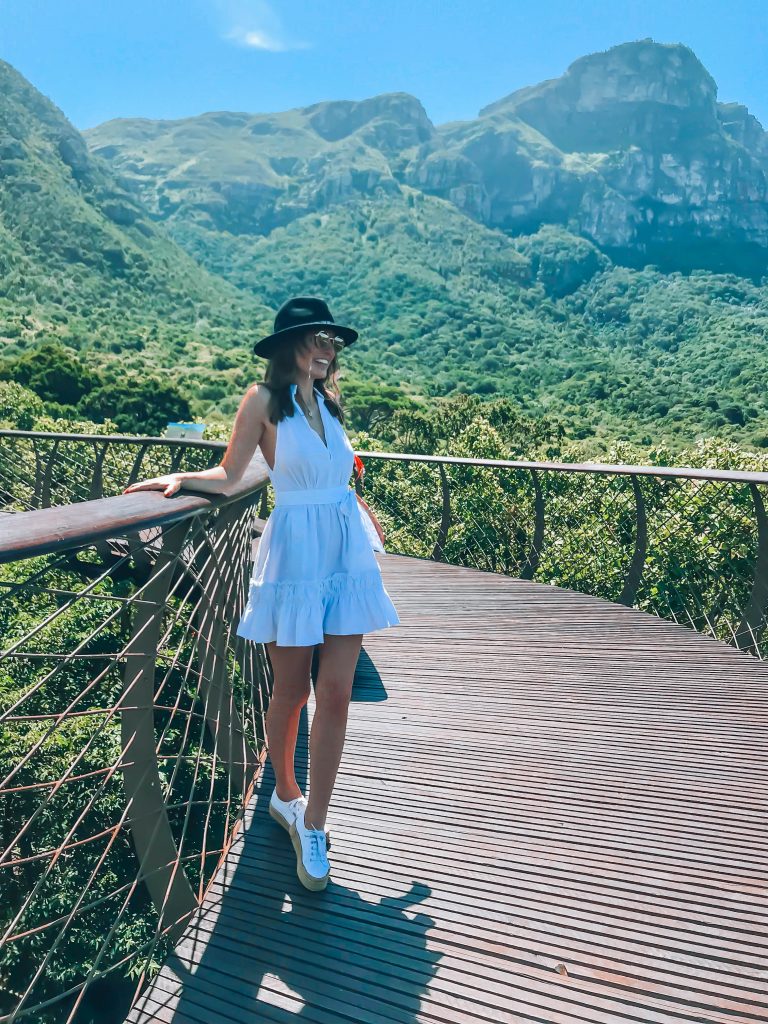 V&A Waterfront
Last but not least you should not forget to stroll along the waterfront. Best against dusk times! At the numerous restaurants, you will surely find a nice evening location or you just go shopping in the mall! For a quick appetite, I recommend the Food Market on the V & A Waterfront!
Zu guter Letzt dürft ihr natürlich nicht vergessen an der Waterfront entlang zu flanieren. Am besten gegen Dämmerungszeiten! Bei den zahlreichen Restaurants findet ihr mit Sicherheit eine nette Abendlocation oder ihr geht einfach in der Mall shoppen! Für den schnellen Hunger empfehle ich den Food Market an der V&A Waterfront!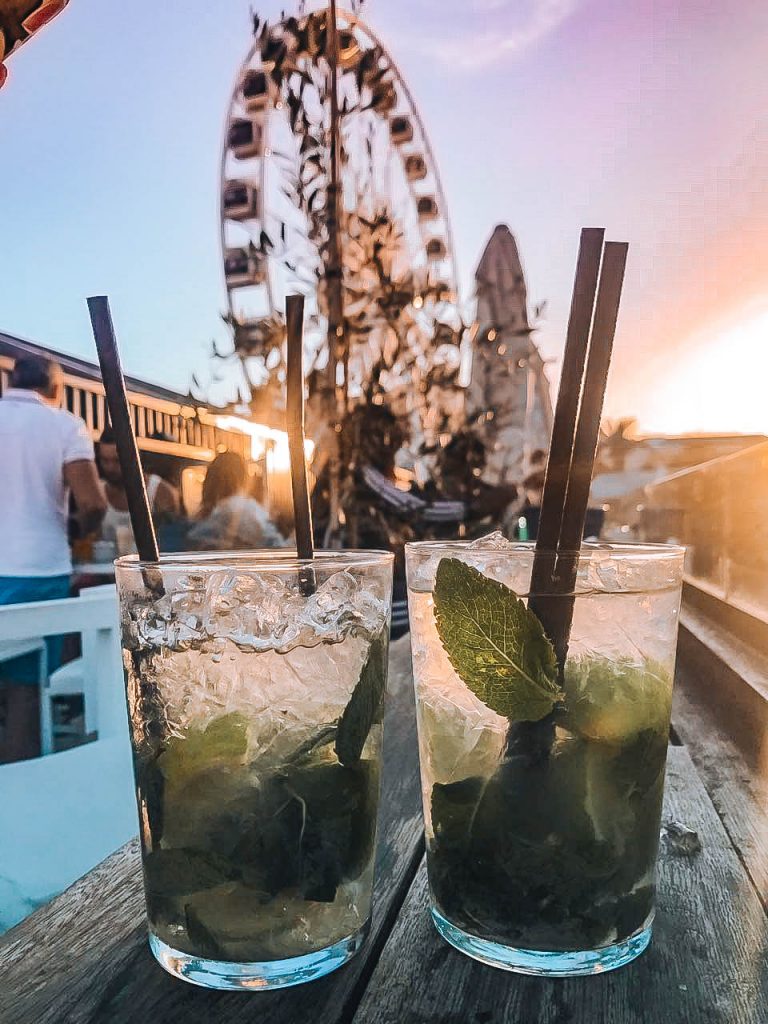 Wine not?
The wineries in Cape Town and the surrounding area are not only suitable for wine lovers like me! At the Groot Constantia you can taste 5 wines for free, get a guided tour on site and can celebrate the vineyards for around 7€! Visiting a vineyard is not only a must for wine lovers!
Die Weingüter in Kapstadt und Umgebung sind nicht nur geeignet für Weinliebhaber wie mich! Für ca. 7€ kann man am Groot Constantia kostenlos 5 Weine probieren, bekommt eine Führung vor Ort und kann die Weinberge begehen! Der Besuch auf einem Weinberg ist nicht nur für Weinliebhaber ein Muss!