It took me only 10 minutes by tram to get to the most beautiful neighborhood, Jordaan, in Amsterdam. After a 4 minute walk across quaint little bridges and canals, I arrived at the hotel, Mr. Jordaan. Why it's called Mr. Jordaan? In honor of the hotel's pre-owner who knew everything about the neighborhood Jordaan and passed his knowledge to today's employees.
1st impression of Mr. Jordaan
When I was in front of Mr. Jordaan, I did not expect that the marvelous canal house was a hotel. Entering in the world of Mr. Jordaan, I was impressed by the interior design. Mr. Jordaan did not look like a typical hotel, it looked like a home. The staff treated me like a member of the Jordaan family. Behind every wall is a little treasure so that you can explore the hotel during the stay and get surprised every day.




The room
Well… What should I say… It is difficult to describe if you have not been there… Have you ever felt so amazed that it is difficult to put that experience into words? That's why I recorded my room in the penthouse suite with a stunning view above the neighborhood. The room was not very big but all in one it was very comfortable, exciting, quiet, lovely, modern, different and fascinating. You will see that the interior designer paid so much attention into detail that there is nothing to complain about! See more in the video and images below.








Perks
As if it is not enough to live in such a wonderful place, you also have water, tee and all types of coffee for free during your whole stay! Furthermore, you get two plastic bottles to refill your water whenever you want and you find "to go" cups next to the coffee machine. The WIFI works very well at the hotel so if you are on a business trip or addicted to the internet, you do not have to worry about it! Additionally, the hotel provides a 24/7 Whatsapp service. So wherever you are or whatever you need, just text them and they will help you. On my way out, I saw that Mr. Jordaan offers tours or bikes for an affordable price. For those, who want to read more about Amsterdam, feel free to use the travel magazine in your room.




Breakfast
Depending on what rate you book, you have breakfast already included. If not, you have the option to book it one day in advance and get a discount of 2,50€. If you have not booked it in advance you will pay 17,50€ for the breakfast. I really liked the breakfast because it has everything that I like such as boiled eggs, muesli, fruits, yoghurt, cheese, ham, salmon, jam, Nutella, bread, croissants and chocolate sprinkles. But I read that vegans could not really find something for breakfast and some expected a larger selection for the price.  Try it yourself! You will not be disappointed! It is very tasty and if it is not your thing, you could still go to one of the dozens cafes around the hotel.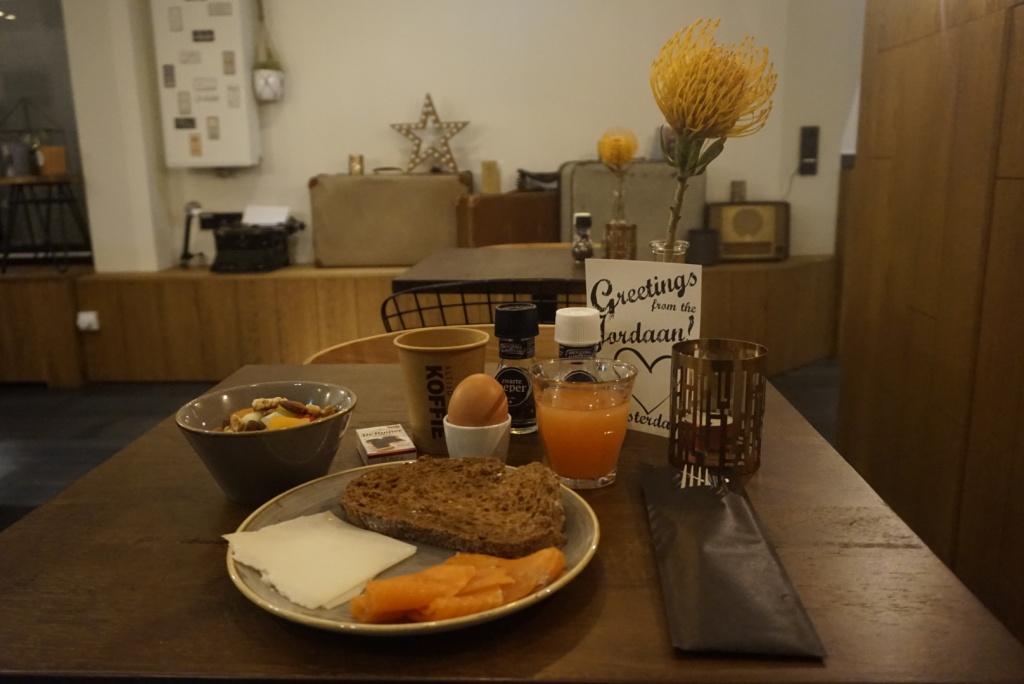 Location
You will not find any better location than this one. It is just a one-minute walk away from the famous Anne Frank house, five to Damstraat and ten to the Rijksmuseum. The tulip museum, cheese museum and the best apple pie with cream in town are just 5 minutes away by foot. Jordaan is the most attractive neighborhood in Amsterdam with its beautiful canal houses, quirky little shops, art studios and loads of authentic Amsterdam bars & cafés. If you want to know more about what to do in Amsterdam, read this article.