The beauty of Jordan may seem like a vast expanse that you think you won't be able to see in a short time. You may be incorrect there, considering I will show you where to visit for all the main attractions in Jordan within 4 days. We made it on our journey to see the highlights like Wadi Rum, Petra, the Dead Sea and much more. If you're taking the first step into the red desert sand and exploring the 100 km desert, you'll know why Jordan is among the top 10 destinations in 2019.
Most begin their tour in Amman, the capital of Jordan, but I can only advise against that. Why? You would miss the "free" and a unique view of Wadi Rum from the top during your approach in Aqaba. Also, Aqaba, home to Aladdin, is closer to the main attractions Wadi Rum and Petra.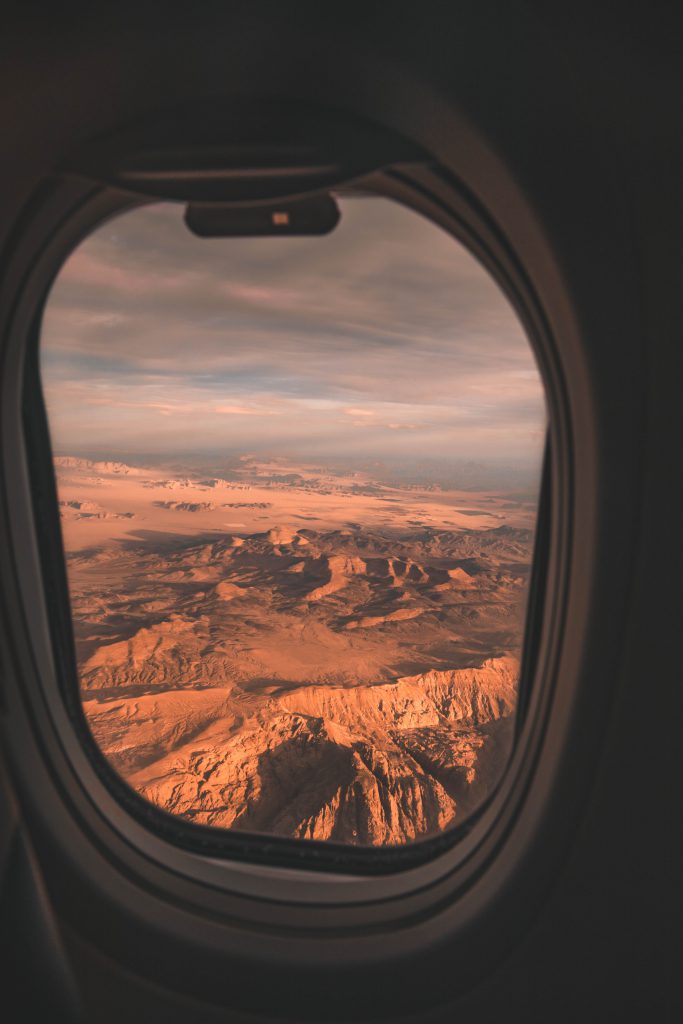 Arrival
If you're flying to Aqaba, you can either station yourself in Aqaba and visit the Dead Sea, Wadi Rum or Petra with a full-day tour operator, or rent a car through CARSiRENT and, explore the country on your own.
Get the Jordan Pass right at the airport. It includes visa and access to all attractions. You get away with the pass ever cheaper if you visit only one attraction. A SIM card with 10GB data costs only about 15 €, at the airport. You will find the shop directly at the exit after your arrival. He is not to be overlooked.
The drive to the desert, Wadi Rum, took about 50 minutes, as we enjoyed a traditional meal at a gas station. I can only fully recommend it, considering it was simple yet delicious food for little money.
After we arrived in front of the desert we were picked up by our host who was already waiting at a parking lot. Another 50 minutes passed by, afterwards, in the exciting ride from the parking lot to our Bedouin camp "Wadi Rum Sky". The journey under the wonderful starry sky went by fast, such that our first night in the desert, under the brightly lit twinkling sky was already over quickly.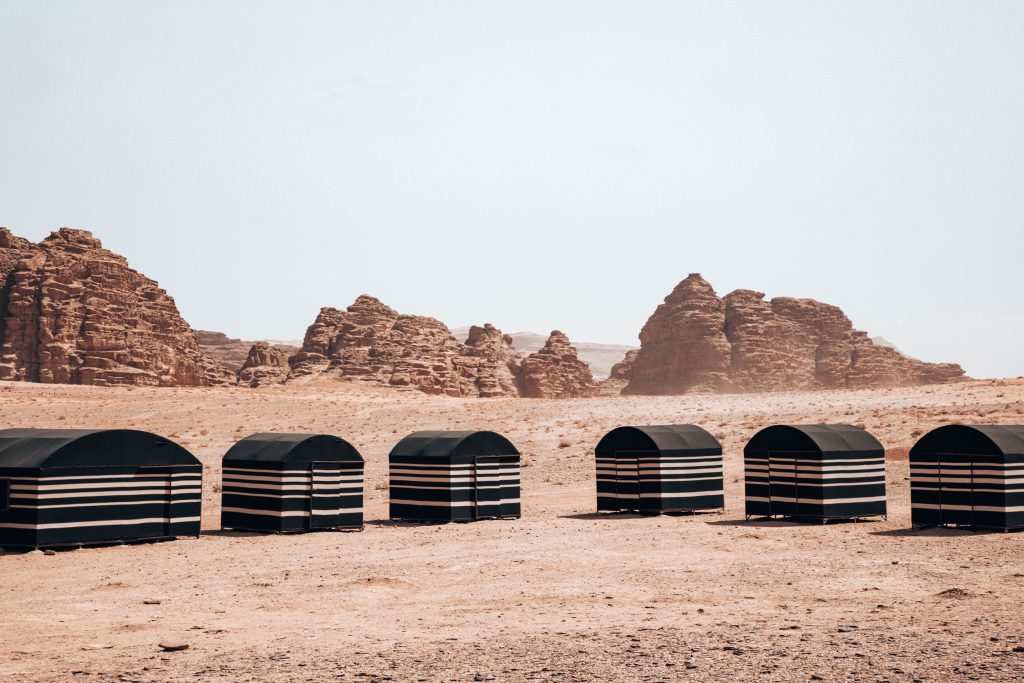 1st Day at Wadi Rum
The camp already had full 10/10 points on Booking.com, and that rating stands true with me too. We got to spend 2 nights there with breakfast, dinner and a private 4-hour jeep tour included for 130 € paid, which was a great deal. The unbeatable price, the clean sanitary facilities, traditional food, extremely friendly staff, the individual tour and our "room" made the stay unbeatable. I completely forgot that we had no hot water and the internet. And so, the best part came when in the warm evening breezes we talked and drank tea with other guests in the tent.
We had decided on our first day to spend our morning in the camp, and in the afternoon were we to be picked up for our desert tour. For about 20 euros more you have a jeep for yourself, and so you can customize the tour. Then I rode in it along with my drone.
Also, I would highly recommend taking the tour in the afternoon, because then you can go to see the sunset in a very special spot.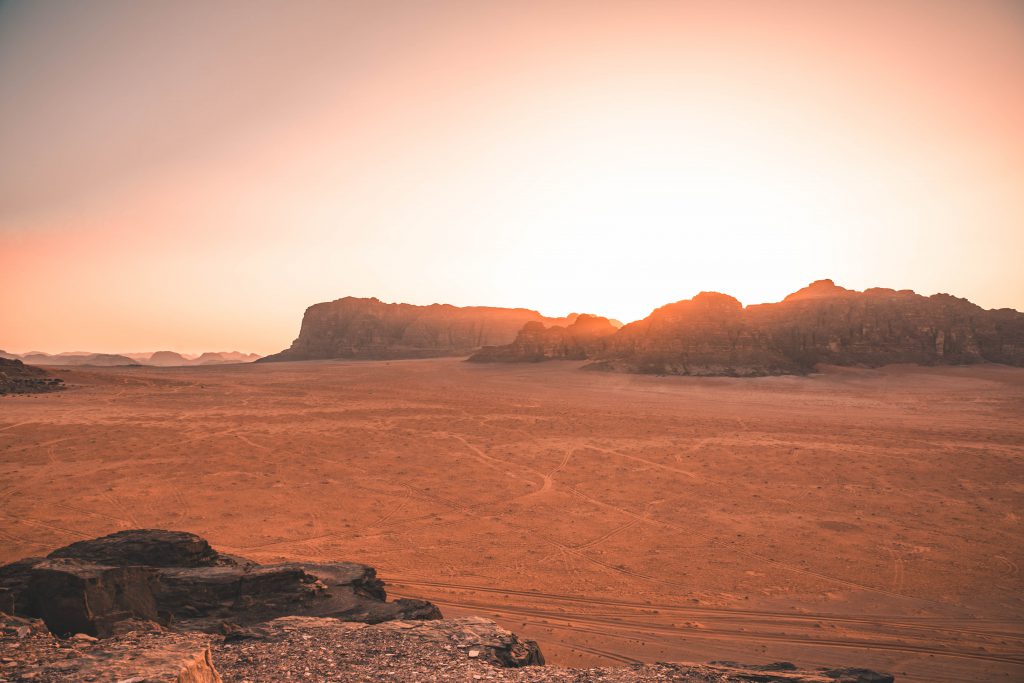 Don't forget:
We took a sleeping bag with us because it can get a bit colder in March at night. Even during the day, the temperatures can fluctuate and wearing a pair of long pants or jacket during the day is not a bad idea. In a strong sandstorm, I recommend that you cover your face with a cloth.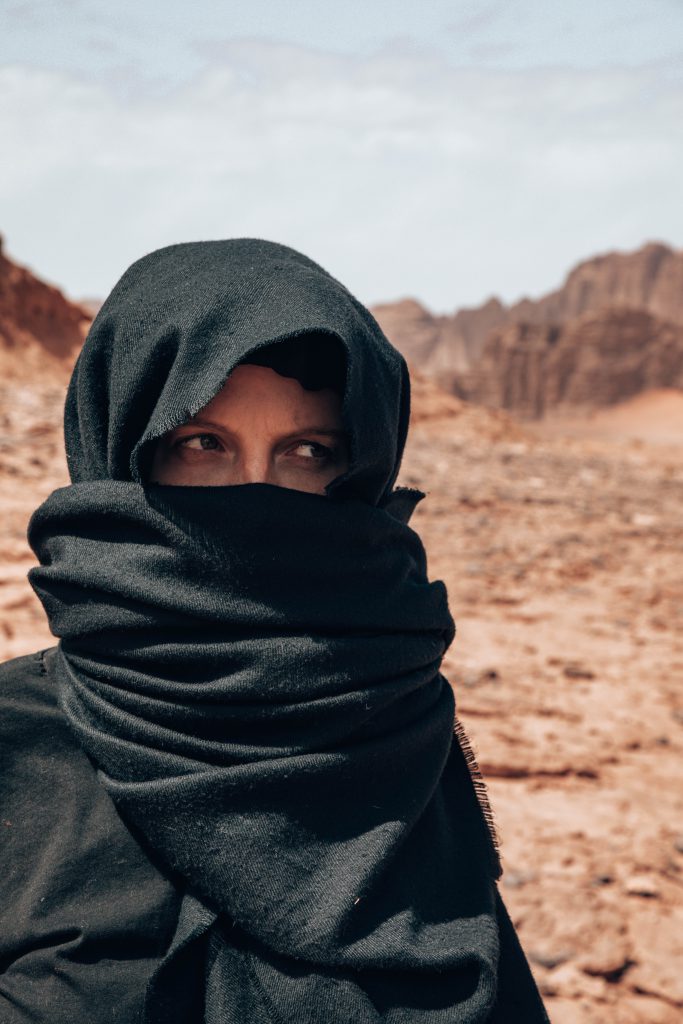 2nd Day Petra
After a slightly cool night, we left for Petra on the second day at 8 in the morning. After 1 hour and 45 minutes we arrived in the tourist resort "Petra". Sounds a bit sarcastic, but it's still worth it.
We spent one night here and I cannot suggest that you do the same. Make sure that you drive after exploring Petra, either to Dana, to the Dead Sea or back to Aqaba. In Petra, it is only worthwhile to visit the rock city in the early morning and afterwards you can go on further with your sightseeing journey. The length of the journey in Petra and the speed with which it is undertaken is the exact opposite of my speed while I wrote these lines. It is very slow. You can spend up to 6 hours in Petra if you want to see everything. We went 30 minutes to the treasure chamber and then back again because, unfortunately, the weather was not so favourable when we went there.
We did stay in Petra, and if you do want to do that, I recommend the Sharah Mountains Hotel. It offers a free shuttle to Petra, and the rooms are very spacious and clean.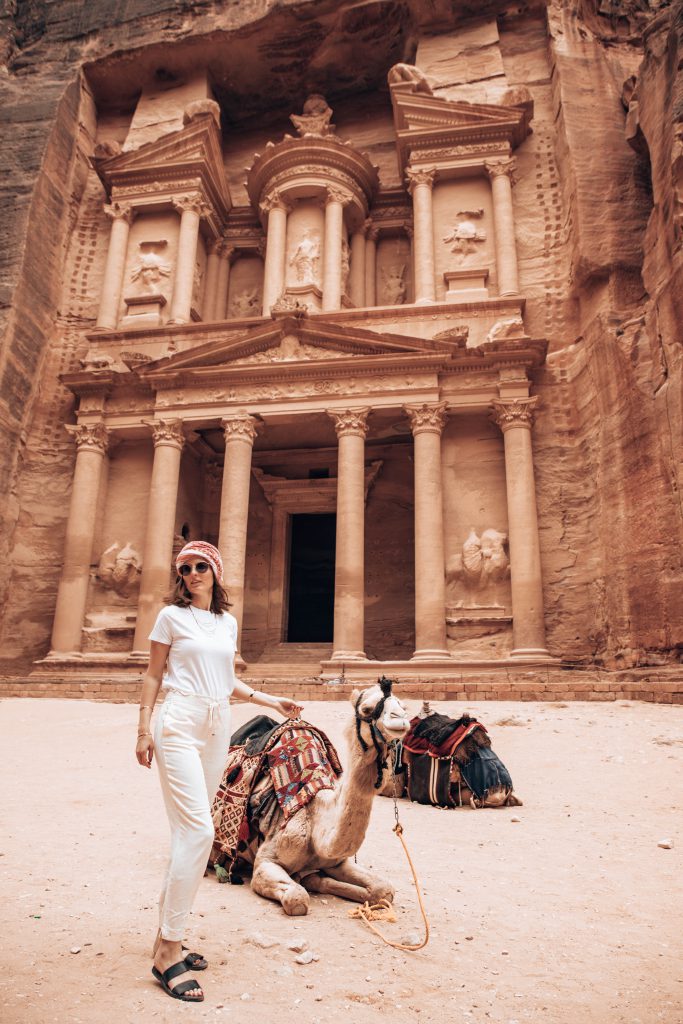 3rd & 4th Day Aqaba
The penultimate day could ideally be spent in Dana or at the Dead Sea. However, we drove back to Aqaba one day earlier to recover from the exciting but still a bit exhausting desert tour. There could not have been a better place for us to stay other than the 5-star Al Manara Hotel. This luxurious "Temple" is located on the seafront with its own private beach. In our spacious room, I felt like 1001 nights.
For your stay at Al Manara Hotel I have two insider tips for you:
Do not miss the extensive breakfast buffet. We ate and enjoyed our breakfast for three hours on the last day.
If you do not want to dine in the hotel and head into the city, then check out Khubza & Seneya. The place is almost always packed. You may have to wait 10 minutes before getting a table here, but no sooner do you eat their delicious traditional and above all cheap food you forget about the waiting.
I have not seen so much breathtaking scenery anywhere as in these four days. Jordan has really impressed us, and it should definitely be on your bucket list. Rarely have I thought about flying to another destination, but I will return to Jordan.
If you have any questions about our trip, just leave a comment! I am looking forward to all your feedback.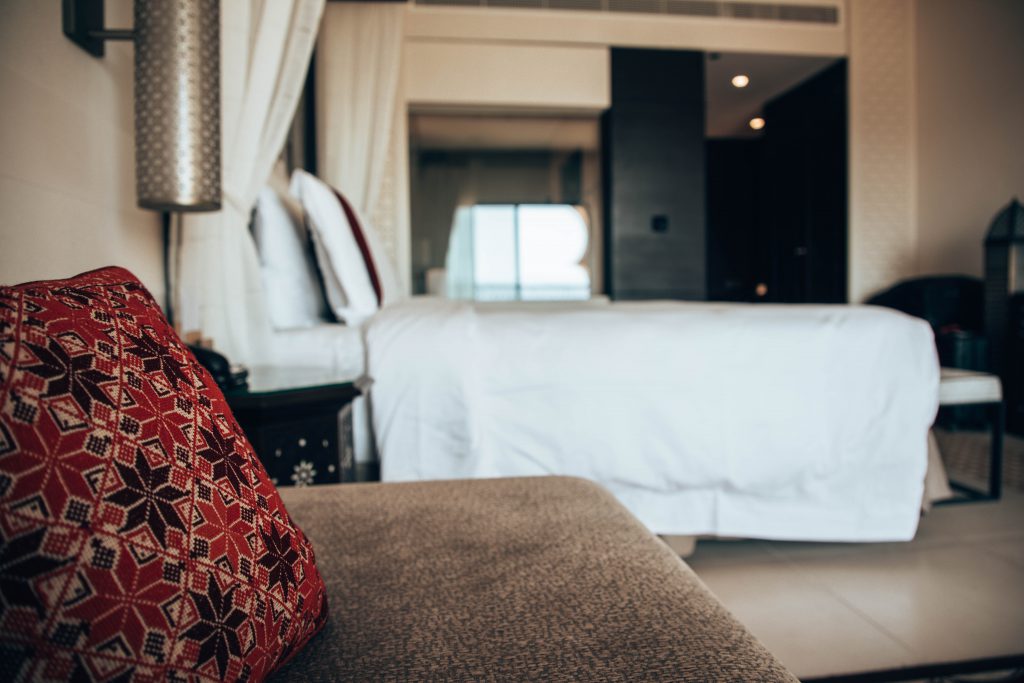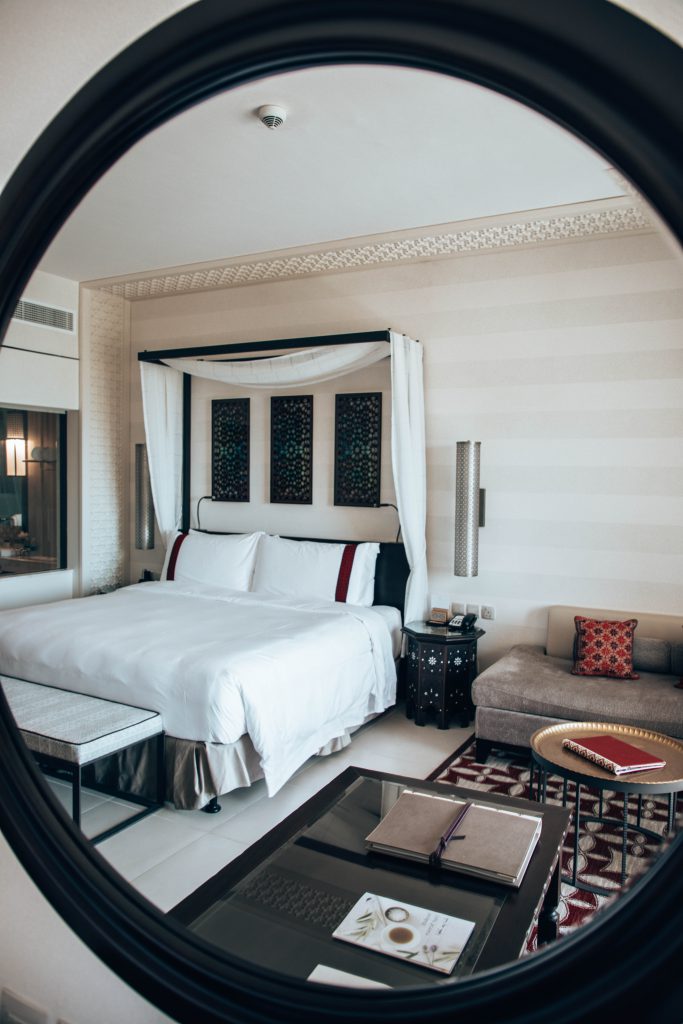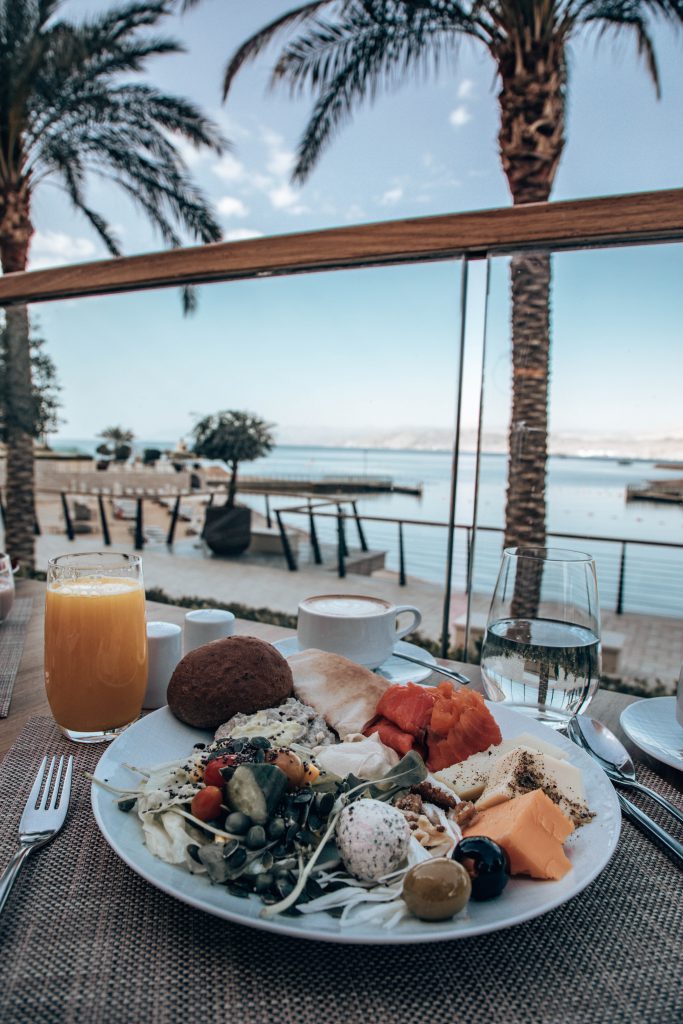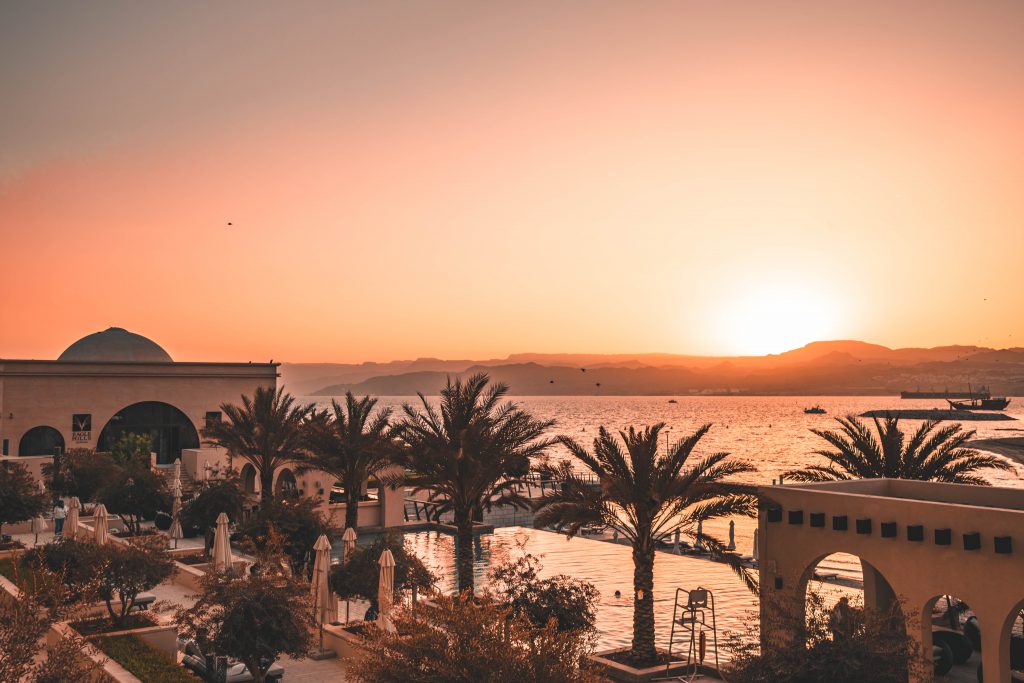 GER
Ihr denkt, dass ihr innerhalb von 4 Tagen nicht alle Hauptattraktionen von Jordanien sehen könnt?! Falsch! Wir haben es auf unserer Reise geschafft, die Highlights wie Wadi Rum, Petra, das Tote Meer und vieles mehr zu sehen! Wenn ihr den ersten Schritt in den roten Wüstensand begeht und die 100km lange Wüste erkundet, wisst ihr warum Jordanien unter den TOP 10 Reisezielen in 2019 ist!
Die meisten beginnen ihre Rundreise in Amman, der Hauptstadt von Jordanien. Davon kann ich euch nur abraten! Warum? Ihr würdet bei eurem Landeanflug in Akaba den "kostenlosen" und einzigartigen Blick auf Wadi Rum von oben verpassen! Außerdem liegt Akaba, die Heimat von Aladdin, viel näher an den Hauptattraktionen Wadi Rum und Petra!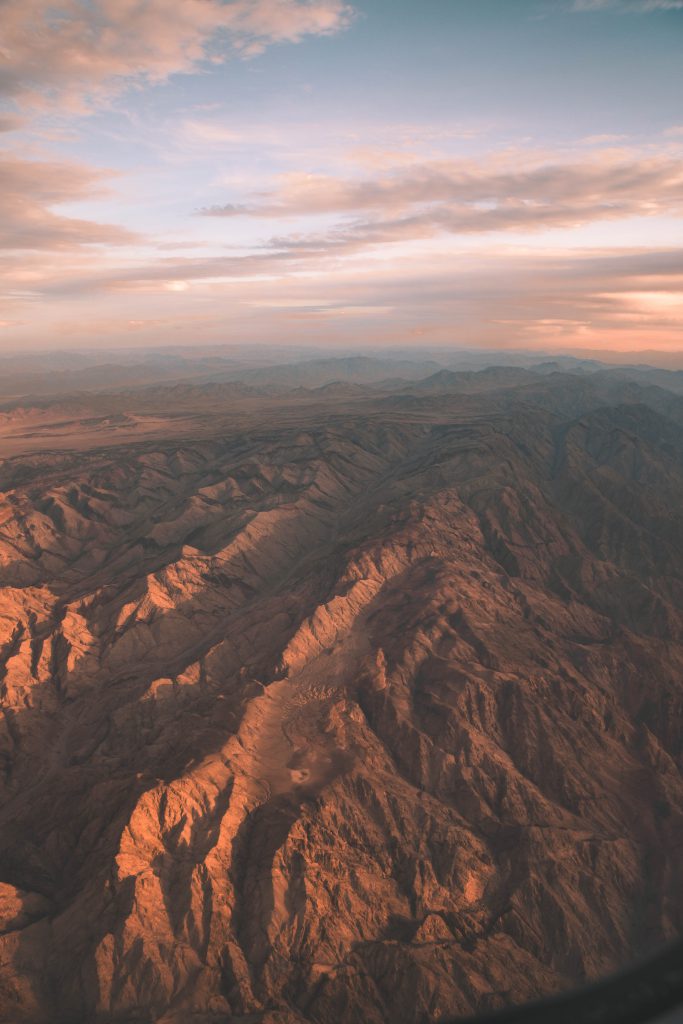 Arrival
Wer nach Akaba fliegt, kann sich entweder in Akaba stationieren und das Tote Meer, Wadi Rum oder Petra mit einem Tagestouranbieter anschauen oder wie wir einfach einen Mietwagen über CarsiRent mieten und das Land auf eigene Faust erkunden! Holt euch am Flughafen direkt den Jordan Pass! Er beinhaltet das Visum und den Eintritt zu allen Attraktionen! Ihr kommt mit dem Pass immer günstiger weg, wenn ihr nur eine Attraktion besucht! Eine Simkarte mit 10GB kostet am Flughafen nur ca. 15€ . Ihr findet den Shop direkt am Ausgang nach eurer Ankunft! Er ist nicht zu übersehen!
Die Fahrt bis zur Wüste, Wadi Rum, dauerte ca. 50 Minuten, da wir noch ein traditionelles Essen an einer Tankstelle genossen haben! Kann ich nur empfehlen! Einfaches und leckeres Essen für wenig Geld!
Angekommen vor der Wüste wurden wir auch schon von unserem Gastgeber an einem Parkplatz abgeholt. Nochmal 50 Minuten ging die aufregende Fahrt vom Parkplatz bis zu unserem Beduinen Camp "Wadi Rum Sky". Die Fahrt unter dem wundervollen Sternenhimmel vergeht wie im Fluge, so dass unsere erste Nacht in der Wüste auch schon wieder ganz schnell vorbei war!
1st Day Wadi Rum
 Das Camp hatte schon bei Booking.com fast 10/10 Punkten und die würde es auch von mir bekommen! Wir haben für 2 Nächte inkl. Frühstück, Abendessen und einer privaten 4 stündigen Jeeptour 130€ bezahlt für 2 Personen! Der unschlagbare Preis, die sauberen Sanitäranlagen, das traditionelle Essen, die überaus freundlichen Mitarbeiter, die individuelle Tour und unser "Zimmer" haben den Aufenthalt unschlagbar gemacht! Da habe ich ganz vergessen, dass wir kein warmes Wasser und Internet hatten!
So hat man sich endlich Mal wieder abends im Zelt mit den anderen Gästen unterhalten und zusammen Tee getrunken!
Wir hatten uns an unserem ersten Tag für den Vormittag im Camp entschieden und wurden nachmittags für unsere Wüstentour abgeholt! Für ca. 20 Euro mehr hat man einen Jeep für sich alleine und kann die Tour individuell gestalten, was sich für meine Drohne und mich nur angeboten hat. Auch die Tour am Nachmittag kann ich euch nur ans Herz legen, da ihr euch dann zum Sonnenuntergang an einen ganz besonderen Spot fahren lassen könnt!
Zu beachten:
Wir haben uns einen Schlafsack mitgenommen, da es im März nachts noch etwas kälter werden kann. Auch tagsüber können die Temperaturen schwanken und eine lange Hose oder Jacke sind tagsüber keine schlechte Idee! Bei einem starken Sandsturm empfehle ich euch ein Tuch fürs Gesicht.

2nd Day Petra
Nach einer etwas kühleren Nacht sind wir schon am 2 Tag um 8 in der früh nach Petra aufgebrochen. Nach 1 Stunde und 45 Minuten sind wir auch schon in dem Touriort "Petra" angekommen. Hört sich etwas sarkastisch an aber es lohnt sich trotzdem!
Wir haben hier allerdings eine Nacht verbracht und das kann ich euch nicht vorschlagen! Fahrt nachdem ihr Petra erkundet habt weiter! Entweder nach Dana, ans Tote Meer oder zurück nach Aqaba. In Petra lohnt es sich nur am frühen Vormittag die Felsenstadt zu begehen und danach kann man wieder weiter! So schnell wie ich die Zeilen gerade niedergeschrieben habe, geht es allerdings nicht. Man kann in Petra bis zu 6 Stunden verbringen, wenn man alles sehen möchte! Wir sind 30 Minuten bis zur Schatzkammer gegangen und dann wieder zurück, da bei uns das Wetter leider nicht so gut war!
Wir haben auch noch in Petra übernachtet! Falls ihr das auch machen möchtet, empfehle ich euch das Sharah Mountains Hotel. Es bietet einen kostenlosen Shuttle nach Petra an und die Zimmer sind sehr großzügig und sauber!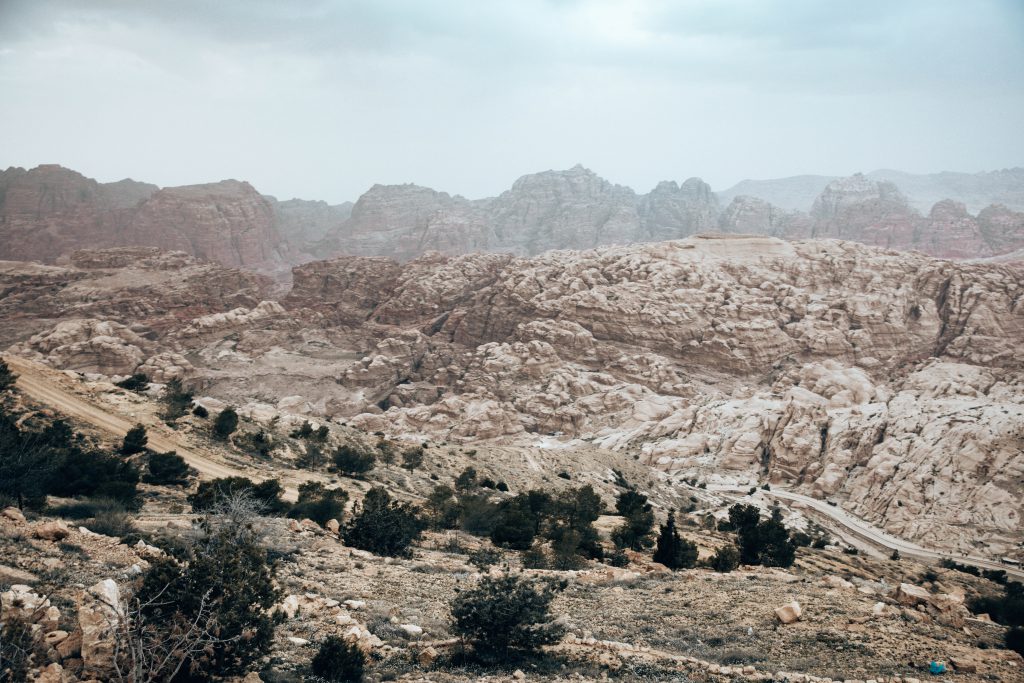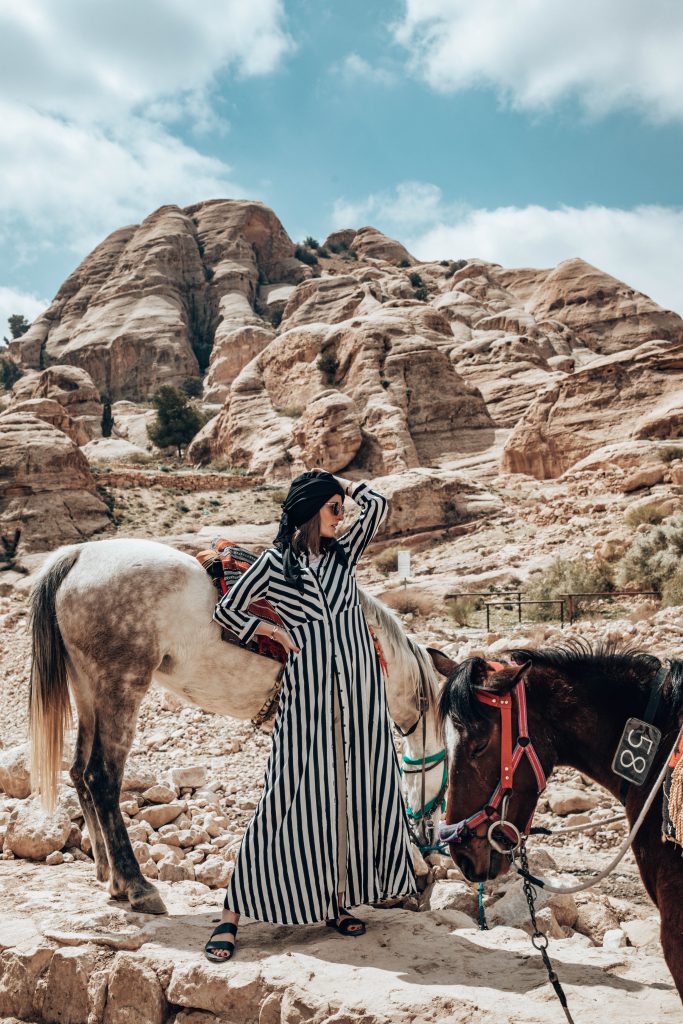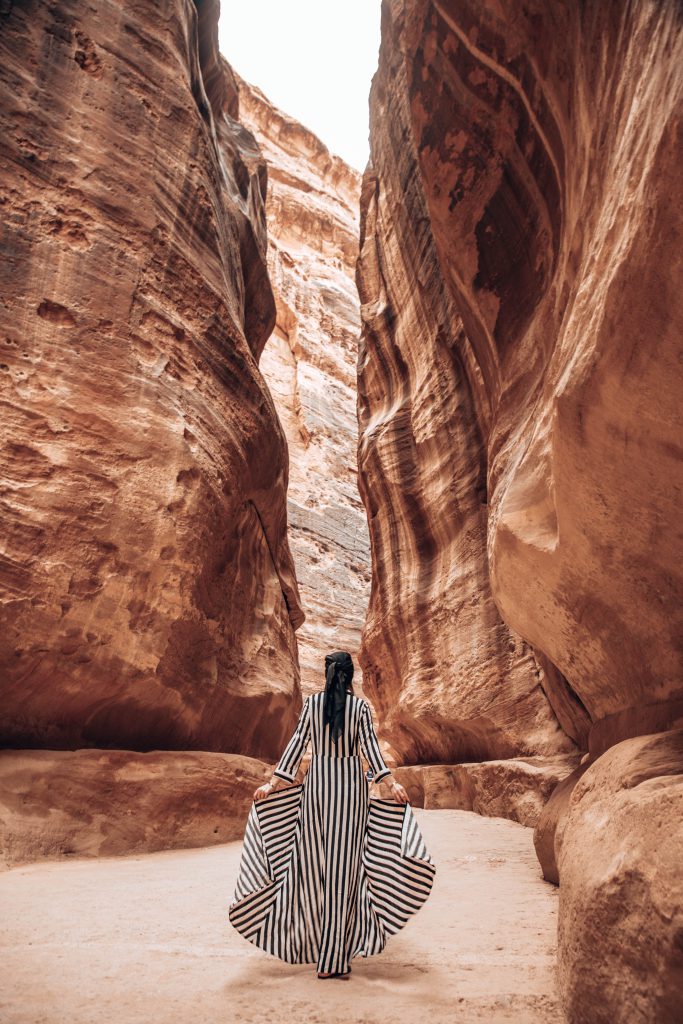 3rd & 4th Day Aqaba
Den vorletzten Tag könnte man also idealerweise in Dana oder am Toten Meer verbringen! Wir sind allerdings schon einen Tag früher zurück nach Akaba gefahren, um uns von der spannenden Wüstentour zu erholen. Es hätte uns nicht besser antreffen können als im 5 Sterne Al Manara Hotel. Der luxuriöse "Tempel" liegt direkt am Meer mit einem eigenen privaten Strand. In unserem großräumigen Zimmer habe ich mich wie bei 1001 Nacht gefühlt!
Für euren Aufenthalt im Al Manara Hotel habe ich zwei Geheimtipps für euch!
Lasst euch auf keinen Fall das ausgiebige Frühstücksbuffet entgehen! Wir haben an unserem letzten Tag drei Stunden lang geschlemmert und genossen!
Wenn ihr abends nicht im Hotel essen möchtet und in die Stadt geht, schaut bei Khubza & Seneya vorbei! Der Imbiss ist fast immer voll. Eventuell müsst ihr 10 Minuten warten aber die Warterei vergesst ihr bei den leckeren traditionellen und vor allem preiswerten Speisen wieder ganz schnell!
So viel Atemberaubendes wie in diesen vier Tagen habe ich schon lange nicht mehr gesehen! Jordanien hat uns total beeindruckt und es sollte auf jeden Fall auf euer Bucketlist stehen! Selten überlege ich nochmal zu einer Destination zu fliegen aber nach Jordanien werde ich zurückkehren!
Solltet ihr noch irgendwelche Fragen zu unserer Reise haben, hinterlasst mir einfach ein Kommentar! Ich freue mich über sämtliches Feedback!