Transformation is the trend of 2020s, proof that comfort and style can go hand-in-hand.  Pair stay home outfit with sneakers or chic accessories and you are ready for the streets. Not convinced? JUVIA's loungewear offers countless examples of how elegance exists in both flowing maxi dresses and cozy sweatpants.
To help you cope with all seasons, JUVIA features all the comfort wear you can ask for – fleece dresses, light-weight sweaters, cotton-mix sweatpants, satin tops and seasonal color palettes. From contemporary color blocking to characterful prints, JUVIA's collections are made to be worn at home and casual events.
There's no better brand for living in style anywhere and anytime. Check out these classic outfits:
Neutral tones carry through every season. Sweatshirts have always been an easy to-match item, so why not complete the set with these milky coffee sweatpants? Roll up the trouser legs to look effortlessly chic.
Tie-dye never loses its appeal, especially in billowing shadows of blue and white. The long-sleeved, oversized look doesn't just look comfortable – it is comfortable. Snuggle up in this sweatshirt at home or wear out with casual sneakers.
If you're preparing for an adventure, bring along some patterned pants. This cool zebra-inspired slim leg pants is perfect for some at-home lounging, or to be worn out in the wild. Pockets, rolled hems and drawstring waistband give it a sporty twist.
Summer themed jumpsuits are the best outfits to pack when you're travelling. They're light-weight, fit for beach use and function as emergency pajamas. The elastic waist makes it the thing to wear to a yummy buffet; it blends into lounge and city. Sleeveless or long-sleeved, this one-piece casual wear puts you at ease.
When all you want to do is to cozy up under covers and not think about fashion at all, you can't go wrong with the classic sweatshirt and sweatpants combo. To look both soft and stylish, opt for trendier color combinations like grey and tan-pink. Entertaining guests but not up for dresses? Pair your off-shoulder sweater with slim fit sweats for a sleeker look.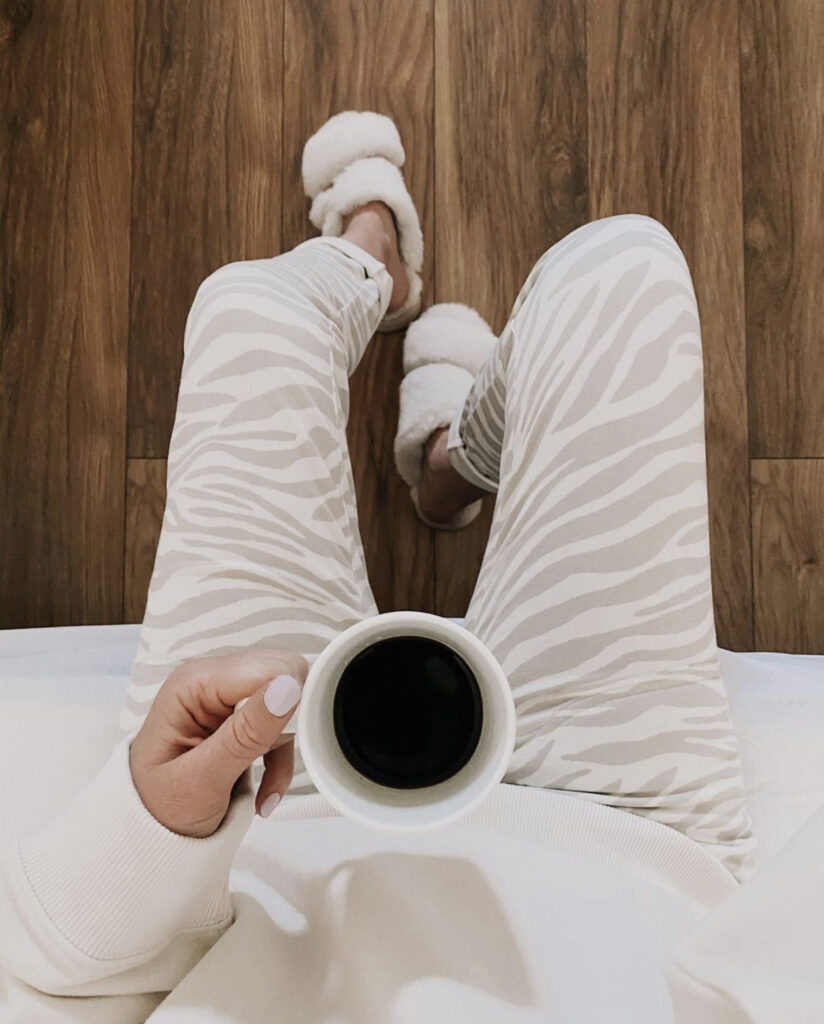 Whether they're in the shade of ecru, milky coffee or pale pink, Juvia's slim fit sweatpants is a top pick for all occasions. The soft cotton make gives it a luxurious feel; it offers comfort wherever you happen to be. The accent rolled hems and patch back pocket also elevates the casual wear into something sportier.
If there is one outfit that screams 'homey but elegant', is it this set of loungewear. The off-white and simple 'us' logo combine to create a picture of unassuming comfort. The zebra-patterned pants add character while the neutral tones keep it low-key.
Coming across JUVIA has made living well so much more effortless. Whether it's at home, travel or a casual outing, there's no need to give up comfort for style. If you're looking for a seasonal treat, why not browse their store?